Indian cricketer Shubman Gill is in discussion about his love life these days. The news of Shubman's affair with Bollywood actress Sara Ali Khan and Sachin Tendulkar's daughter Sara Tendulkar has gone viral.
Meanwhile, some people also associated Shubman Gill's name with actress-model Sonam Bajwa. However, when Sonam came to know about it, she told the whole truth.
Is Shubman Gill dating Sonam Bajwa? 
Actually, a user has posted a photo of Sonam Bajwa and Shubman Gill on Twitter, in which both are seen shaking hands with each other and looking at each other. In its caption, the user wrote, 'The reason behind Gill hitting back-to-back centuries'. Users are replying on this tweet.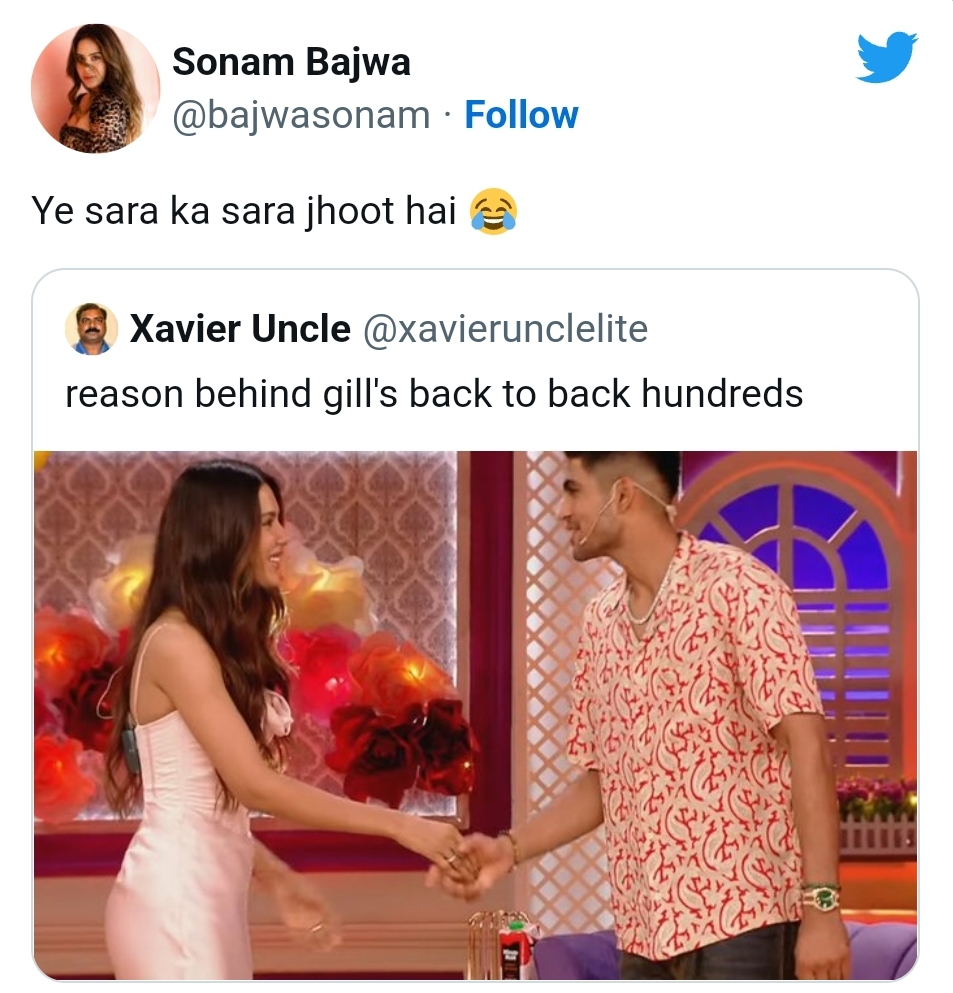 Sonam Bajwa gave this reply –
Now Sonam Bajwa has replied by sharing this tweet again. He wrote, 'Yeh Sara ka saara jhoot hai'. Now users are replying on this. One user wrote, 'Epic reply'. Another user wrote, 'So much has been used,  obvious is happening'. At the same time, another user wrote, 'Understand the gesture'. Sonam Bajwa has pointed to Sara Ali by writing the name of 'Sara' in the caption and pulled Shubman Gill's leg.
Shubman gave this answer on the question of dating Sara –
Let us tell you that some time ago, cricketer Shubman Gill reached Sonam Bajwa's talk show, where he was asked a question about dating Sara Ali Khan. In the talk show, Sonam asked Shubman who is the fittest actress in Bollywood, to which he took the name of Sara Ali Khan.
After this Sonam asked if you are dating Sara, then Shubman said – Maybe. After this Sonam starts laughing. She asks in Punjabi, 'Sara ka saara sach bolo please'. In response to this, Shubman Gill says, 'I am speaking the whole truth.'