Sachin Tendulkar will turn 50 after two days on Monday (April 24). This greatest batsman spoke to the fans on Twitter on Friday (April 21), three days before his birthday, he answered questions from fans on Twitter.
During this, Sachin told that his favorite football player is Lionel Messi, the captain of Argentina. Messi led the country to the World Cup under his captaincy at the end of last year.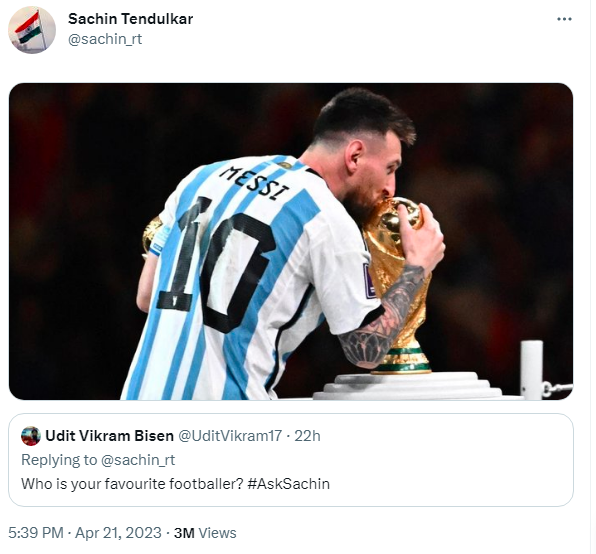 A fan asked Sachin, "Who is your favorite footballer?" Tendulkar did not write anything on this. He simply shared Messi's picture. In this, the captain of Argentina is kissing the World Cup trophy, Argentina defeated France in the final. He was successful in winning the World Cup for the third time.
A fan asked- Has Arjun ever got you out? On this Sachin said- Yes, once in Lord's, but don't remind Arjun. 
A fan shared a picture of Tendulkar and Virat Kohli and asked – what were you telling Kohli at this time? Actually, this picture is of the time when Sachin was returning to the pavilion after being dismissed by Lasith Malinga in the final of the World Cup 2011 and Virat Kohli was entering the field. Sachin said on the question related to this photo, "Even now the ball is swinging a little bit." 
ALSO READ- Sunil Chhetri did a blindfold challenge with Virat- WATCH
Sachin told during a chat with the fans that apart from Wankhede Stadium, he likes to play at Chepauk Stadium in India. At the same time, when asked about 'chit mill', Tendulkar took the name of Biryani. Incidentally, his son Arjun Tendulkar is also a fan of Chicken and Mutton Biryani.