India's star cricketer Rishabh Pant has met with a horrific car accident, due to which he has suffered serious injuries. According to sources close to Rishabh, the cricketer who was on his way home in Roorkee was taken to a local hospital after the accident.
Rishabh sustained injuries on his head, back and legs, but his condition is stable. The news of Rishabh's accident comes to the fore, fans and celebs started praying for him and meanwhile there is also a post of actress Urvashi Rautela, which is going viral.
What is Urvashi's post ?
Actually Urvashi Rautela has shared a picture on Instagram. With this picture, Urvashi wrote in the caption – 'Praying (prayer continues).' Urvashi has also used an emoji of a white heart in her caption and has also written #LOVE in the hashtag. Although Urvashi has not written anyone's name in her post, but in the comment section, social media users say that this post of the actress is for Rishabh only.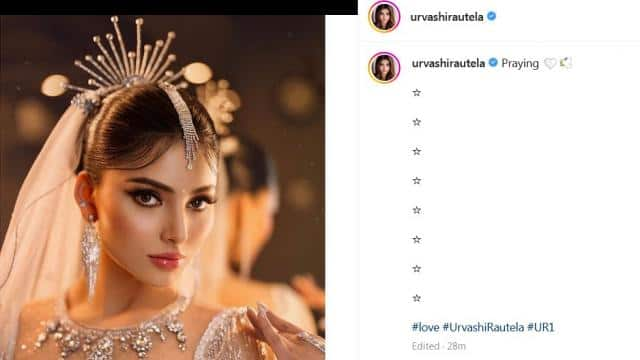 How is Rishabh's health now ?
News agency quoted sources close to Rishabh as saying, "Pant himself was driving when the car hit the divider at the Delhi Narsan border. He was immediately taken to Saksham Hospital, but will be taken to Max Hospital for further treatment."
On the other hand, according to media reports, the Roorkee police have said that Rishabh had a sudden nap, due to which the accident happened, he had neither a companion nor a driver, he himself drove the car alone to his family in Roorkee. were going According to the police, his condition is fine, he is in a position to talk and is talking properly.
Name associated with Urvashi –
The name associated with Urvashi is noteworthy that Rishabh Pant is a strong cricketer. Pant has so far scored 2,271 runs in 33 Tests with the help of five centuries and 11 half-centuries. He has also represented the country in 30 ODIs and 66 T20s Rishabh has been in discussion about his professional life as well as personal life.
His name is also associated with Urvashi Rautela, and it is said that he has moved on from that relationship but the actress is still waiting for him. Urvashi also did many posts in between in the name of RP, although later that person was someone else.