The FIFA WC-2022 is going to kick off in less than a month now, and every country is accounted for, even India, doesn't matter if the Indian football team didn't make it into the FIFA WC-2022. The group stage matchups are already decided and we can predict really well now about who might have the best chance to reach the knockouts of FIFA WC-2022.
England will face the USA in Group B, Lionel Messi-led Argentina will go up against Mexico in Group C, and it'll be Luis Suarez's Uruguay looking to go head-to-head with a potential final World Cup tournament for Cristiano Ronaldo in Group H.
Subsribe To Our Official YouTube
The tournament kicks off on Sunday, Nov. 20 with an opening ceremony and the inaugural match between Qatar and Ecuador. It will wrap up in less than a month, with the final due to be played on Sunday, Dec. 18.
Brazil entered the tournament not only as the most successful nation in World Cup history with 5 titles winning their last title back in 2002 but also as the nation having the best squad depth. They have a manageable group to go ahead in the FIFA WC-2022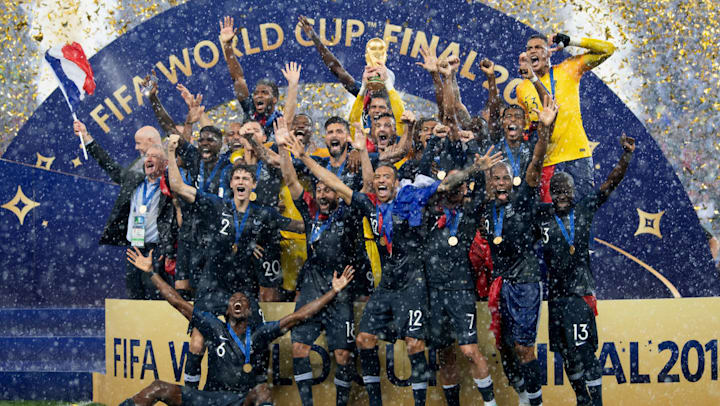 Defending champions France is expected to finish at the top of their group but the world cup curse could be real seeing France's recent run of form. As per the World cup curse, the FIFA world cup winner since 2006, gets out of the next edition of the world from the group stage only. For eg- Italy won in 2006 but got eliminated from the group stage in 2010, Spain won the World Cup in 2010 but got eliminated from the group stage in 2014, and Germany who are the winner in 2014 got eliminated from the group stages after losing to the underrated team of South Korea.
Which teams could surprise? African champions Senegal is one of the stronger teams in Group A and is one of the strongest teams from the African continent, Denmark doesn't have much quality or technical players as compared to the European giants but as a team, they are a threat to watch just like Napoli are right now in the Champions League.
FIFA WC-2022 tournament format
The 2022 World Cup will follow along the lines of recent editions, with a 32-team group stage to just 16 teams going in the knockout stages — only the top two teams from each of the eight groups survive.
Those 16 group-stage teams will advance to the single-game knockout stages — Round of 16, quarterfinals, semifinals, final — where the winner moves on and the loser goes home. There must be a winner on the day for every knockout-round match, and the extra time and penalty kicks will be used, if necessary, to determine the victor.
Group stage: Nov. 20-Dec. 2
Round of 16: Dec. 3-6
Quarterfinals: Dec. 9-10
Semifinals: Dec. 13-14
Third-place match: Dec. 17
Final: Dec. 18
FIFA WC-2022 kickoff times
Stage(s)
Local
(Qatar)
USA & Canada
(ET)
UK
(GMT)
Australia
(AEDT)
India
(IST)
Group stage only
1 p.m.
5 a.m.
10 a.m.
9 p.m.
3:30 p.m.
Group stage only
4 p.m.
8 a.m.
1 p.m.
12 a.m.
6:30 p.m.
Knockouts only
6 p.m.
10 a.m.
3 p.m.
2 a.m.
8:30 p.m.
Group stage only
7 p.m.
11 a.m.
4 p.m.
3 a.m.
9:30 p.m.
Group/Knockouts
10 p.m.
2 p.m.
7 p.m.
6 a.m.
12:30 a.m.
FIFA WC-2022 Group A table & fixtures
| Team | PTS | GP | W | L | D | GF | GA | GD |
| --- | --- | --- | --- | --- | --- | --- | --- | --- |
| A1: Qatar | 0 | 0 | 0 | 0 | 0 | 0 | 0 | 0 |
| A2: Ecuador | 0 | 0 | 0 | 0 | 0 | 0 | 0 | 0 |
| A3: Senegal | 0 | 0 | 0 | 0 | 0 | 0 | 0 | 0 |
| A4: Netherlands | 0 | 0 | 0 | 0 | 0 | 0 | 0 | 0 |
FIFA WC-2022 Group A match schedule
| | | | |
| --- | --- | --- | --- |
| Date | Match | Time (ET) | Stadium |
| Sun, Nov. 20 | Qatar vs. Ecuador | 11 a.m. | Al Bayt |
| Mon, Nov. 21 | Senegal vs. Netherlands | 11 a.m. | Al Thumama |
| Fri, Nov. 25 | Qatar vs. Senegal | 8 a.m. | Al Thumama |
| Fri, Nov. 25 | Netherlands vs. Ecuador | 11 a.m. | Khalifa Int'l |
| Tues, Nov. 29 | Netherlands vs. Qatar | 10 a.m. | Al Bayt |
| Tues, Nov. 29 | Ecuador vs. Senegal | 10 a.m. | Khalifa Int'l |
---
FIFA WC-2022 Group B table & fixtures
| Team | PTS | GP | W | L | D | GF | GA | GD |
| --- | --- | --- | --- | --- | --- | --- | --- | --- |
| B1: England | 0 | 0 | 0 | 0 | 0 | 0 | 0 | 0 |
| B2: Iran | 0 | 0 | 0 | 0 | 0 | 0 | 0 | 0 |
| B3: USA | 0 | 0 | 0 | 0 | 0 | 0 | 0 | 0 |
| B4: Wales | 0 | 0 | 0 | 0 | 0 | 0 | 0 | 0 |
FIFA WC-2022 Group B match schedule
| | | | |
| --- | --- | --- | --- |
| Date | Match | Time (ET) | Stadium |
| Mon, Nov. 21 | England vs. Iran | 8 a.m. | Khalifa Int'l |
| Mon, Nov. 21 | USA vs. Wales | 2 p.m. | Ahmad Bin Ali |
| Fri, Nov. 25 | Wales vs. Iran | 5 a.m. | Ahmad Bin Ali |
| Fri, Nov. 25 | England vs. USA | 2 p.m. | Al Bayt |
| Tues, Nov. 29 | Wales vs. England | 2 p.m. | Ahmad Bin Ali |
| Tues, Nov. 29 | Iran vs. USA | 2 p.m. | Al Thumama |
---
FIFA WC-2022 Group C table & fixtures
| Team | PTS | GP | W | L | D | GF | GA | GD |
| --- | --- | --- | --- | --- | --- | --- | --- | --- |
| C1: Argentina | 0 | 0 | 0 | 0 | 0 | 0 | 0 | 0 |
| C2: Saudi Arabia | 0 | 0 | 0 | 0 | 0 | 0 | 0 | 0 |
| C3: Mexico | 0 | 0 | 0 | 0 | 0 | 0 | 0 | 0 |
| C4: Poland | 0 | 0 | 0 | 0 | 0 | 0 | 0 | 0 |
FIFA WC-2022 Group C match schedule
| | | | |
| --- | --- | --- | --- |
| Date | Match | Time (ET) | Stadium |
| Tues, Nov. 22 | Argentina vs. S. Arabia | 5 a.m. | Lusail |
| Tues, Nov. 22 | Mexico vs. Poland | 11 a.m. | Stadium 974 |
| Sat, Nov. 26 | Poland vs. S. Arabia | 8 a.m. | Education City |
| Sat, Nov. 26 | Argentina vs. Mexico | 2 p.m. | Lusail |
| Wed, Nov. 30 | Poland vs. Argentina | 2 p.m. | Stadium 974 |
| Wed, Nov. 30 | S. Arabia vs. Mexico | 2 p.m. | Lusail |
---
FIFA WC-2022 Group D table & fixtures
| Team | PTS | GP | W | L | D | GF | GA | GD |
| --- | --- | --- | --- | --- | --- | --- | --- | --- |
| D1: France | 0 | 0 | 0 | 0 | 0 | 0 | 0 | 0 |
| D2: Australia | 0 | 0 | 0 | 0 | 0 | 0 | 0 | 0 |
| D3: Denmark | 0 | 0 | 0 | 0 | 0 | 0 | 0 | 0 |
| D4: Tunisia | 0 | 0 | 0 | 0 | 0 | 0 | 0 | 0 |
FIFA WC-2022 Group D match schedule
| | | | |
| --- | --- | --- | --- |
| Date | Match | Time (ET) | Stadium |
| Tue, Nov. 22 | Denmark vs. Tunisia | 8 a.m. | Education City |
| Tue, Nov. 22 | France vs. Australia | 2 p.m. | Al Janoub |
| Sat, Nov. 26 | Tunisia vs. Australia | 5 a.m. | Al Janoub |
| Sat, Nov. 26 | France vs. Denmark | 11 a.m. | Stadium 974 |
| Wed, Nov. 30 | Tunisia vs. France | 10 a.m. | Education City |
| Wed, Nov. 30 | Australia vs. Denmark | 10 a.m. | Al Janoub |
---
FIFA WC-2022 Group E table & fixtures
| Team | PTS | GP | W | L | D | GF | GA | GD |
| --- | --- | --- | --- | --- | --- | --- | --- | --- |
| E1: Spain | 0 | 0 | 0 | 0 | 0 | 0 | 0 | 0 |
| E2: Costa Rica | 0 | 0 | 0 | 0 | 0 | 0 | 0 | 0 |
| E3: Germany | 0 | 0 | 0 | 0 | 0 | 0 | 0 | 0 |
| E4: Japan | 0 | 0 | 0 | 0 | 0 | 0 | 0 | 0 |
FIFA WC-2022 Group E match schedule
| | | | |
| --- | --- | --- | --- |
| Date | Match | Time (ET) | Stadium |
| Wed, Nov. 23 | Germany vs. Japan | 8 a.m. | Khalifa Int'l |
| Wed, Nov. 23 | Spain vs. Costa Rica | 11 a.m. | Al Thumama |
| Sun, Nov. 27 | Japan vs. Costa Rica | 5 a.m. | Ahmad Bin Ali |
| Sun, Nov. 27 | Spain vs. Germany | 2 p.m. | Al Bayt |
| Thurs, Dec. 1 | Japan vs. Spain | 2 p.m. | Khalifa Int'l |
| Thurs, Dec. 1 | Costa Rica vs. Germany | 2 p.m. | Al Bayt |
FIFA WC-2022 Group F table & fixtures
| Team | PTS | GP | W | L | D | GF | GA | GD |
| --- | --- | --- | --- | --- | --- | --- | --- | --- |
| F1: Belgium | 0 | 0 | 0 | 0 | 0 | 0 | 0 | 0 |
| F2: Canada | 0 | 0 | 0 | 0 | 0 | 0 | 0 | 0 |
| F3: Morocco | 0 | 0 | 0 | 0 | 0 | 0 | 0 | 0 |
| F4: Croatia | 0 | 0 | 0 | 0 | 0 | 0 | 0 | 0 |
FIFA WC-2022 Group F match schedule
| | | | |
| --- | --- | --- | --- |
| Date | Match | Time (ET) | Stadium |
| Wed, Nov. 23 | Morocco vs. Croatia | 5 a.m. | Al Bayt |
| Wed, Nov. 23 | Belgium vs. Canada | 2 p.m. | Ahmad Bin Ali |
| Sun, Nov. 27 | Belgium vs. Morocco | 8 a.m. | Al Thumama |
| Sun, Nov. 27 | Croatia vs. Canada | 11 a.m. | Khalifa Int'l |
| Thurs, Dec. 1 | Croatia vs. Belgium | 10 a.m. | Ahmad Bin Ali |
| Thurs, Dec. 1 | Canada vs. Morocco | 10 a.m. | Al Thumama |
---
FIFA WC-2022 Group G table & fixtures
| Team | PTS | GP | W | L | D | GF | GA | GD |
| --- | --- | --- | --- | --- | --- | --- | --- | --- |
| G1: Brazil | 0 | 0 | 0 | 0 | 0 | 0 | 0 | 0 |
| G2: Serbia | 0 | 0 | 0 | 0 | 0 | 0 | 0 | 0 |
| G3: Switzerland | 0 | 0 | 0 | 0 | 0 | 0 | 0 | 0 |
| G4: Cameroon | 0 | 0 | 0 | 0 | 0 | 0 | 0 | 0 |
FIFA WC-2022 Group G match schedule
| | | | |
| --- | --- | --- | --- |
| Date | Match | Time (ET) | Stadium |
| Thurs, Nov. 24 | Switzerland vs. Cameroon | 5 a.m. | Al Janoub |
| Thurs, Nov. 24 | Brazil vs. Serbia | 2 p.m. | Lusail |
| Mon, Nov. 28 | Cameroon vs. Serbia | 5 a.m. | Al Janoub |
| Mon, Nov. 28 | Brazil vs. Switzerland | 11 a.m. | Stadium 974 |
| Fri, Dec. 2 | Cameroon vs. Brazil | 2 p.m. | Lusail |
| Fri, Dec. 2 | Serbia vs. Switzerland | 2 p.m. | Stadium 974 |
---
FIFA WC-2022 Group H table & fixtures
| Team | PTS | GP | W | L | D | GF | GA | GD |
| --- | --- | --- | --- | --- | --- | --- | --- | --- |
| H1: Portugal | 0 | 0 | 0 | 0 | 0 | 0 | 0 | 0 |
| H2: Ghana | 0 | 0 | 0 | 0 | 0 | 0 | 0 | 0 |
| H3: Uruguay | 0 | 0 | 0 | 0 | 0 | 0 | 0 | 0 |
| H4: South Korea | 0 | 0 | 0 | 0 | 0 | 0 | 0 | 0 |
FIFA WC-2022 Group H match schedule
| | | | |
| --- | --- | --- | --- |
| Date | Match | Time (ET) | Stadium |
| Thurs, Nov. 24 | Uruguay vs. South Korea | 8 a.m. | Education City |
| Thurs, Nov. 24 | Portugal vs. Ghana | 11 a.m. | Stadium 974 |
| Mon, Nov. 28 | South Korea vs. Ghana | 8 a.m. | Education City |
| Mon, Nov. 28 | Portugal vs. Uruguay | 2 p.m. | Lusail |
| Fri, Dec. 2 | South Korea vs. Portugal | 10 a.m. | Education City |
| Fri, Dec. 2 | Ghana vs. Uruguay | 10 a.m. | Al Janoub |
---
FIFA WC-2022 Round of 16
| | | | |
| --- | --- | --- | --- |
| Date | Match | Time (ET) | Stadium |
| Sat, Dec. 3 | 1A vs. 2B | 10 a.m. | Khalifa Int'l |
| Sat, Dec. 3 | 1C vs. 2D | 2 p.m. | Ahmad Bin Ali |
| Sun, Dec. 4 | 1D vs. 2C | 10 a.m. | Al Thumama |
| Sun, Dec. 4 | 1B vs. 2A | 2 p.m. | Al Bayt |
| Mon, Dec. 5 | 1E vs. 2F | 10 a.m. | Al Janoub |
| Mon, Dec. 5 | 1G vs. 2H | 2 p.m. | Stadium 974 |
| Tues, Dec. 6 | 1F vs. 2E | 10 a.m. | Education City |
| Tues, Dec. 6 | 1H vs. 2G | 2 p.m. | Lusail |
FIFA WC-2022 Quarterfinals
| | | | |
| --- | --- | --- | --- |
| Date | Match | Time (ET) | Stadium |
| Fri, Dec. 9 | QF1: 1E/2F vs. 1G/2H | 10 a.m. | Education City |
| Fri, Dec. 9 | QF2: 1A/2B vs. 1C/2D | 2 p.m. | Lusail |
| Sat, Dec. 10 | QF3: 1F/2E vs. 1H/2G | 10 a.m. | Al Thumama |
| Sat, Dec. 10 | QF4: 1B/2A vs. 1D/2C | 2 p.m. | Al Bayt |
FIFA WC-2022 Semifinals
| | | | |
| --- | --- | --- | --- |
| Date | Match | Time (ET) | Stadium |
| Tues, Dec. 13 | QF2 vs. QF1 | 2 p.m. | Lusail |
| Wed, Dec. 14 | QF4 vs. QF3 | 2 p.m. | Al Bayt |
FIFA WC-2022 3rd Place
| | | | |
| --- | --- | --- | --- |
| Date | Match | Time (ET) | Stadium |
| Sat, Dec. 17 | Semifinal losers | 10 a.m. | Khalifa Int'l |
FIFA WC-2022 Final
| | | | |
| --- | --- | --- | --- |
| Date | Match | Time (ET) | Stadium |
| Sun, Dec. 18 | Semifinal winners | 10 a.m. | Lusail |
Source: Sporting News
A video is getting viral in which Kohli is stopping his fan to make noise while practicing