Introduction:
Betvisa is an online gambling platform. It offers both sports exchange and casino games. Thus, covering the Indian and Bangladeshi markets. With its innovative features, friendly interface, and exceptional customer service. Betvisa is emerging as a leading player in the online gambling industry in the region. In this article, we are going to discuss in detail about the platform. Such as its sports exchange and casino offerings. Also, how it fulfills the specific needs of users in India and Bangladesh. Try not to miss anything.
Sports Exchange
Sports exchange is a concept allowing users to bet against each other. Thus, eliminating the need for a traditional bookmaker. The sports exchange section offers many sports. Such as cricket, football, basketball, and more. Those are available with competitive odds and an interactive betting experience. Here's how Betvisa's sports exchange stands out:
Peer-to-Peer Betting:
Unlike traditional sportsbooks, in Betvisa's sports exchange users to bet against each other. Thus, acting as both a bettor and a bookmaker. This creates a betting environment where users can set their own odds. It will help them to negotiate bets too. Thus, resulting in better value and flexibility for bettors.
Competitive Odds:
Betvisa's sports exchange offers competitive odds on a wide range of sports events. Some of the major events are IPL and BPL. It ensures that users get the best possible value for their bets. The platform uses algorithms to calculate odds in real-time. Those give all the bettors equal chance to win. Thus, ensuring  that the whole process is fair.
Live Betting:
Betvisa's sports exchange allows users to bet in real-time during sports events. And provide an interactive betting experience. Users can take advantage of changing odds and make bets on the basis of the game's condition. And, adding an element of excitement to their betting experience.
For instance, you are watching a cricket match. The match is between, CSK and RCB. You did put the bet on CSK to win before the start of match. But, now during the match you realize that situation favoring RCB. Thus, you can now do your calculations and bet on the winning team. Or, the team you feel like winning now.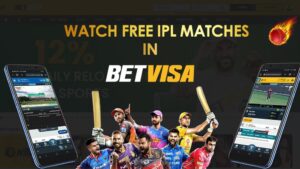 You can keep watching and place more bets. Also, there are options to bet on what will happen in next ball. So, you can have fun betting while watching the live match.
Betvisa's Sports Exchange and Indian and Bangladeshi Markets:
Betvisa's sports exchange does focus on the unique needs of users in India and Bangladesh. The countries where sports like cricket do enjoy huge popularity. And the platform also offers a wide range of cricket events. Also, they are with local payment options, customer support, and language support. And making it a favourite choice for sports betting lovers in the region.
Casino – A Wide Range of Games for Casino Lovers
Besides its sports exchange, Betvisa also offers a wide range of casino games. Which satisfies the diverse choice of users in India and Bangladesh. Betvisa's casino offering includes popular games. The slots are at the top. Rest, table games, live casino, and many more. And those are with immersive graphics, seamless gameplay, and attractive bonuses. Here's what sets this casino apart:
Diverse Game Selection:
Betvisa's casino provide a diverse selection of games from popular game providers. And offers something for everyone. Users can enjoy a wide range of slots. Such as classic slots and video slots. There are even variations in table games too. With blackjack and roulette, you can find baccarat too. The platform also offers live casino games. Where users can play in real-time with live dealers. Thus, it is a great real life experience.
With so many options, players from with different taste can come. As, not everyone is football fan. Or, many like to play casino games, instead of betting on sports. So, focusing on one game is never good for a betting platform. Thus, it offers different games in both sports and casino section. And, this feature help to get more traffic on the platform.
Attractive Bonuses and Promotions:
Betvisa offers many bonuses and promotions to its casino players. Including welcome bonuses for all new users. They even have deposit bonuses too. Free spins for slots is a common type of bonus too. These bonuses provide users with extra value and enhance their gaming experience. As, everyone want to earn without risking much. Thus, providing such offers is one of the best features.

Secure and Fair Gaming:
Betvisa ensures that its casino games are secure and fair. They use up to date technology to protect data of users. Also employs random number generators to ensure fair outcomes. Users can enjoy a safe and transparent gaming experience on the platform.
Local Payment Options and Customer Support:
Betvisa understands the importance of fulfilling the needs of users in India and Bangladesh. Thus offers payment options that are familiar to users in these regions. Users can both deposit as well as withdraw funds using easy to use payment methods. Such as UPI, NetBanking, Paytm and more,. Thus, make transactions seamless and hassle-free. Also, Betvisa provides dedicated customer support in local languages. That is to ensure prompt and effective help to its users.
User-Friendly Interface and Mobile Accessibility
For any of the betting platforms, ease in operating is a must. Also, Betvisa's user interface is not at all difficult to use. In fact, they are available on various devices. Including desktops, laptops, smartphones, and tablets. Thus, allows users to have great user experience. Betvisa also offers a mobile app that is available for download on both Android and iOS devices. Thus, the users can place their bets anytime and anywhere. Also, it requires basic system requirements. Jut you need to have the latest software.
Responsible Gambling Measures
As a responsible gambling platform, it promotes responsible gambling practices. Thus, ensuring the well-being of its users. The platform provides various measures. It helps users maintain control over their gambling activities. Betvisa also offers support for users who may need help with gambling addiction. They even partner with organizations to provide help to those in need. Those help the people who have symptoms of addiction.
Legality and Security
The operations are under the laws and regulations of the jurisdictions it operates in. Thus, ensuring a safe and secure gambling environment for its users. The platform employs security measures, to protect user data and transactions. Betvisa also follows strict verification processes. It is to ensure the age and identity of its users. Which helps in preventing underage gambling and fraud.
Conclusion:
Betvisa is a great sports exchange and casino platform. It has quite innovative features. Also the diverse game offerings and localized payment options are other great features. The responsible gambling measures show the level of its working. Those do help them to emerge as a leading player in the online gambling industry in the region. Thus, the exciting and secure platform for users attracts many of the users' interests.