One of the greatest players of all time if not the greatest, Cristiano Ronaldo after a heartbreaking exit in the Quarter Finals against the dark horses and the most surprising team of the tournament Morocco by 1-0, What's the next step for Ronaldo after leaving Manchester United mid-season after the Piers Morgan Interview. Against Morocco, Cristiano got subbed in after the 70 minutes of the game and even had a chance to score an equalizer to keep Portugal's hopes alive by the end of 90 minutes but Bounou saved it brilliantly and Morocco became the first African country to reach the Semi-Finals of the FIFA World Cup 2020.
Subscribe To Our Official YouTube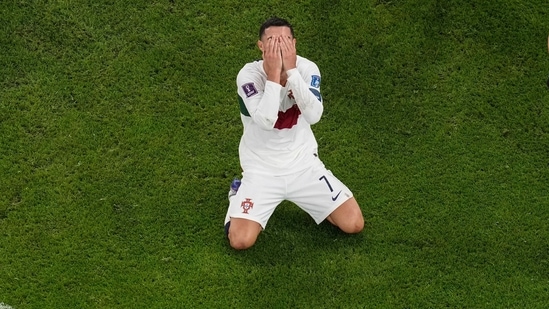 What's next for Cristiano Ronaldo?
After ending his Contract with Man United before the World Cup and scoring just 1 goal in the whole world cup campaign and even being benched in the knockout games, the age is really hitting Cristiano Ronaldo and that's the reason why it's very hard for Ronaldo to find any club playing in the Champions League, Although mid-table clubs approached him and the biggest contract he has on the table is of Al-Nassr. Cristiano Ronaldo can join Saudi Arabian club Al-Nassr on a two-and-a-half-year deal worth 200 million euros per season.
In terms of International football, Ronald can go on to play till Euro 2024 but still, it's hard for him to sustain as his abilities have been limited to headers inside the penalty box and taking penalties due to the age factor and other young players providing some new dimensions to the team which Ronald can't right now. So, We could even expect his retirement from International football and can see him go to a club that won't be a part of European football, some reports suggest that medical has already been scheduled with Al-Nassr.
There were a few reports telling that Ronald was training at the Real Madrid training ground and some fans and media expected a homecoming but it seems impossible as of now.