The year 2022 has almost ended and the Indian team has witnessed many achievements and setbacks this year. Some of the major achievements were defeating England in the ODI and T20I series during away tours and bagging victories in some bilateral series. Some setbacks were the humiliating semi-final loss in ICC T20 World Cup 2022 and the recent 2 ODI losses to Bangladesh. Team India also couldn't manage to win the Asia Cup 2022.
Arshdeep Singh
Arshdeep Singh had a great 2022 in T20Is where he was the 2nd highest wicket-taker after Bhuvneshwar Kumar . He picked 33 wickets in 21 matches averaging a mere 18.12. His strike rate was also good at 13.3.His economy rate was a 8.17 while considering that he's a death-over specialist left-arm pace bowler. Apart from the pace duo of Arshdeep Singh and Bhuvneshwar Kumar, none picked more than 25 T20I wickets. Mohammed Siraj had picked the most 23 wicket in 14 ODIs in the 50 overs format in 2022.
Suryakumar Yadav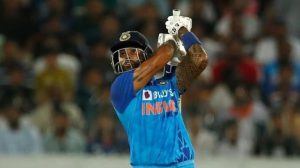 Suryakumar Yadav was the only and first Indian batter to score more than 1000 runs in T20Is in a calender year. He scored1164 runs in 31 T20Is at a astonishing strike rate of 187.43 in 2022. His average of 46.56 was the 2nd best among Indians after Virat Kohli in T20Is in 2022.
Suryakumar Yadav scored 2 centuries and 9 fifties in 2022. The only other batter to have scored 1000-plus T20I runs in a calendar year is Pakistan's Mohammad Rizwan, who scored 1326 in 2021. Suryakumar Yadav had hit a sensational 48-ball century (117) in a losing cause for India against England in the third T20I at Trent Bridge in July this year.Suryakumar Yadav was the third-highest run-scorer in the recently concluded T20 World Cup 2022 in Australia with 239 runs in six innings at a brilliant strike rate of a 187.
Virat Kohli
Virat Kohli was the 2nd highest run scorer in T20Is in 2022 after Suryakumar Yadav, scoring 781 runs averaging 55.78 including a century(122*) against Afghanistan in Asia Cup 2022. He had also hit 8 fifties. He registered a three digit mark after 1020 days. His 122* off 61 balls against Afghanistan was also the highest-ever individual score in T20I cricket by an Indian.
Virat Kohli scored 296 runs in six innings for India, with a high score of 82* at the T20 World Cup 2022.  He finished as the highest run-scorer in T20 World Cup 2022 and also registered a huge record, becoming the first player to be the leading run-scorer in multiple T20 World Cups (2014, 2022).
Shreyas Iyer
Shreyas Iyer was the highest run scorer taking over  Shikhar Dhawan in ODIs in 2022. While Shikhar Dhawan had scored 688 runs in 23 ODIs, Shreyas Iyer had scored 724 runs in only 18 ODIs. Shreyas Iyer had scored 1 ODI century against South Africa (113*) and 6 fifties.
Rishabh Pant 
Rishabh Pant struggled in the limited overs formats in 2022 especially in T20Is, he was India's top run getter in Tests in 2022, scoring 532 runs in 4 innings of 5 test matches, averaging 66.5 with 2 centuries and 3 fifties. He was the only Indian batter to score more than 350 runs in Tests.