Ravindra Jadeja was nicknamed 'Rockstar' by Shane Warne after his phenomenal performances in the inaugural edition of the IPL i
Ravindra Jadeja's main strength has always been his control and accuracy. His ability to extract turn on even flat pitches has helped him established himself in the Indian Test team. From 61Tests, he has picked up 247 wickets at an average of 24.40 and strike-rate of 60.6.
In this article, we'll look at top 5 spells by Ravindra Jadeja in test cricket.
5/47 against Australia in Nagpur (2023)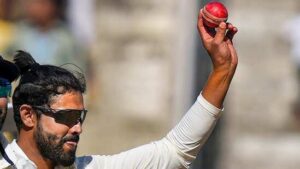 India and Australia were playing the last series of the WTC cycle 2021-23. Australia already qualified for the WTC final but India required to win atleast 3 test out of 4. India were playing at home but Australia are tough side to beat in any condition.  Bumrah was not available to be injury concerns and Ravindra Jadeja made his comeback after almost a year for Team India.
Indian captain , lost the toss and India were called to bowl first. Indian seamers send both the opener back to the pavilion but then Steve Smith and Marnus Labuschagne started to a build a partnership.  The pitch had some assistance for the spinners but was good for batting.  Ravindra Jadeja after the lunch was phenomenal, he dismissed Labuschagne and Renshaw on two consecutive balls. He also dismissed Steve Smith. He finished his spell with the figures of 5 for 47 and Australia are bundled out for mere 177 runs.
5/73 against New Zealand in Kanpur (2016)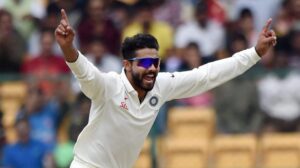 It was the start of India's long home season – 13 Test matches in the span of 7 months. Ashwin and Jadeja were going to play a key role in those games. New Zealand were first up and it was the first Test of the home season and also India's 500th Test. Thus, it was a momentous occasion.
India batted first after winning the toss and posted 318 runs. It was Ravindra Jadeja's unbeaten 42 that helped the hosts cross the 300-mark after they had lost 8 wickets for 123 runs. New Zealand's first innings started brightly as Latham and Williamson fought their way to take the visitors to 159/1.
But an opening provided by Ashwin who scalped both Latham and Williamson helped Jadeja as he ran through the Kiwi batting line-up to help India gain an important 56-run lead. Jadeja bowled with great control and accuracy. Even when he couldn't pick wickets at the start of his spell, he didn't give away too many runs and kept the pressure on from his end.
Hence, his 5/73 which included a 3-wicket over helped India gain lead. His all-round efforts also helped him earn the Man of the Match award.
 5/21 against South Africa in Mohali (2015)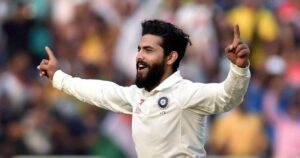 Ravindra Jadeja had been dropped from the limited-overs side that played against South Africa at home in 2015. He had endured a poor year till then. Hence, he was forced to go back to the Ranji Trophy and deliver good performances. And he did exactly that. He picked up 37 wickets from 4 matches. This red-hot form led to  Jadeja's inclusion in the Test squad.
In the first Test on a turning Mohali track, Jadeja scored a vital 38 to take India to 201 in the first innings. He then picked up 3/55 and supported Ashwin ,who took 5/51 to help the hosts restrict the Proteas to 184.
India's batting failed once again as they were  out for 200 and set the tourists a tricky target of 218. And the resilience Amla, de Villiers and Elgar showed in the first innings gave South Africa belief that they can overhaul the target.
Once again ,Ravindra Jadeja came to rescue and picked up 5/21 to help India win by 108 runs. Jadeja bowled with brilliant accuracy as 5 out of 8 wickets that he took in the game were bowled or LBW.
 7/48 against England in Chennai (2016)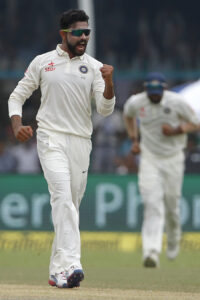 By November 2015, Ravindra Jadeja had become India's second spinner for the home Tests. He was playing the role of the support spinner to perfection. His control and accuracy allowed Ashwin to experiment and attack a little more. Thus, India formed a lethal combo.
When both teams moved to Chennai for the fifth Test, India had already won the series but team India were eager to end the series on a winning note. In reply to England's 477 in the first innings, Karun Nair struck a magnificent triple ton to help India post a mammoth total of 759.
The game was headed towards a draw as England were 97/0 at lunch on the final day. However, a magic spell from Jadeja helped India bowled out England for 207 to hand India an innings victory. He ran through the English batting line-up like never before. On a pitch which was very good for batting even on the fifth day, he picked up 7/48.
6/63 against Australia in Bengaluru (2017)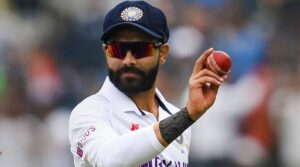 The Australia series was the last series of India's grand 2016/17 home season. After losing the first Test on a rank turner in Pune ,India were again on the back foot in the second Test.
Batting first they had scored only 189. Jadeja picked up three key wickets (of Smith, Renshaw and Handscomb) on the second day to bring the hosts back in the game. But Australia regained control and were cruising at 269/6. However, the left-arm spinner weaved his magic as he picked up 3 wickets in the span of 10 balls to help India restrict Australia's lead to 87.
. Hence, Jadeja's 6/63 shifted the momentum as India came from behind to win the Test match and eventually went on to clinch the series.