Indian leg spinner Yuzvendra Chahal, the cricket sensation from Jind, Haryana, celebrated his 33rd birthday on July 23. Known for his spin wizardry and integral role in India's success in white-ball cricket, Chahal has also earned a reputation as one of the most entertaining cricketers in the world.
On numerous occasions, he has showcased his witty banter and humorous antics, adding a touch of fun to the game. As we wish him a good career, let's reminisce on three of his most entertaining on-field moments that stole the limelight of the match.
3 – Roasting His Wife
During his time with RCB in IPL 2020, Chahal found himself in a savage yet hilarious moment. The team's mascot, Mr. Nags, playfully asked Chahal if he had ever played chess with his wife, Dhanashree Verma.
In response, Chahal cheekily remarked, "For that, you need to have a mind." The lighthearted banter left everyone in splits, demonstrating Chahal's playful nature.
2 – Funny scene with the Umpire
In a surprising turn of events during India's clash against South Africa at the 2022 T20I World Cup, Chahal, who was not playing, stepped onto the field as a waterboy when KL Rahul got injured.
As the physio attended to Rahul, Chahal engaged in a playful conversation with the umpires. In a moment of hilarity, he made a humorous gesture of hitting the umpire Langton Rusere in the groin with his knee and gave him a light punch, leaving the umpire amused and the audience amused.
1 – His Iconic Pose
No list of Yuzvendra Chahal's entertaining moments would be complete without mentioning his iconic relaxing pose. During the 2019 ODI World Cup match against Sri Lanka, Chahal, who was not part of the playing XI, caught the attention of cricket fans by relaxing and chilling on the sidelines with his trademark swag.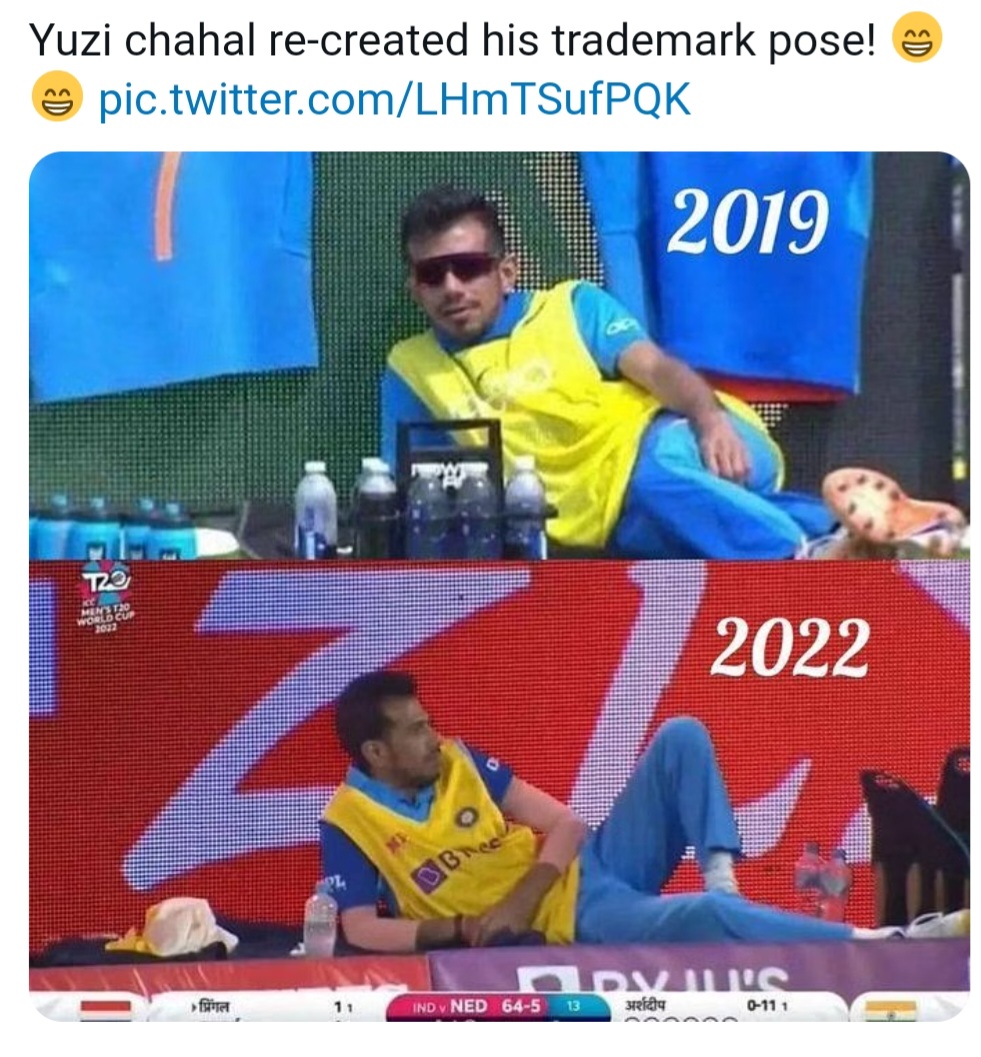 This pose became an instant hit on social media, sparking a meme-fest. Chahal recreated this iconic pose on various occasions, including at the 2022 T20I World Cup and when he took a memorable hat-trick against Kolkata Knight Riders in IPL 2022.
ALSO READ: Prabhsimran Singh's catch stuns Cricket world in Deodhar Trophy 2023: VIDEO
Yuzvendra Chahal's on-field antics not only add humor to the game but also showcase his vibrant and lively personality. Alongside his spin wizardry, he has mastered the art of having fun with fellow players and entertaining cricket fans worldwide.
As he gears up for the upcoming ODI World Cup, fans can undoubtedly expect more moments of laughter and joy from this talented and charismatic cricketer.