India defeated Australia by 6 wickets in the second Test match of Border Gavaskar Trophy. With this victory, the Indian team is almost certain to play the World Test Championship (WTC) final. Further with the help of this article, we will understand the whole equation of India reaching the title match.
South Africa can't get ahead of us now –
In the WTC points table, Australia is currently at number one, India at second, Sri Lanka at number three and South Africa at number four. South Africa has to play two more matches against the West Indies at home. If the African team wins both these matches, then they will get 55.55% points.
On the other hand, even if the Indian team loses the remaining two matches in the current series against Australia, they still will have 56.94% points. Now the team of South Africa cannot overtake India anyhow.
Sri Lanka has to play two Tests against New Zealand –
At present, the Sri Lankan team, which is at number three in the points table, has to play two Test matches against New Zealand in New Zealand. If the Sri Lankan team does not win both the Tests, then the Indian team will reach the final only after winning two Tests against Australia.
If Sri Lanka makes a clean sweep, they will have 61.11% points. In this situation, India will have to win one more Test in the current series with Australia.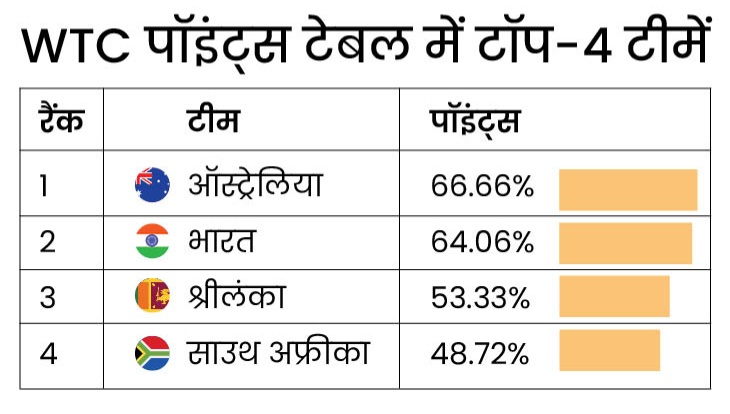 और मज़ेदार ख़बर के लिए यहाँ हिन्दी में पढ़े –
http://www.cricketkeedahindi.com
However, it is very difficult for Sri Lanka to win both the Tests in New Zealand. If the Sri Lankan team loses even a single Test there or draws a single match, then India will secure its place in the finals only by winning two Tests against Australia.
Australia is almost certain to play the final –
Australia is almost certain to play the WTC final. Even if they loses all four matches of the series, they will surely to be in the top-2. However, for this they may have to depend on the results of other teams.
WTC final match will be held at Oval –
The final match of the World Test Championship will be held at the Oval Cricket Ground in London from 7 to 11 June. Announcing the dates on Wednesday, the ICC had told that a reserve day has also been kept for the match, June 12 will be a reserve day. This is the second season of the World Test Championship.
In the first season, the New Zealand team became the champion under the captaincy of Kane Williamson. The Kiwi team defeated India by 8 wickets in the final played in Southampton.