In a highly anticipated SAFF Championship 2023 match between India and Pakistan at Bengaluru's Kanteerva Stadium, Indian football team captain Sunil Chhetri showcased his exceptional skills by scoring a remarkable hat trick. Chhetri's impressive performance began with a goal in the 10th minute, taking advantage of a defensive error by Pakistan to give India an early 1-0 lead.
Subscribe to our official youtube
Just six minutes later, Anirudh Thapa's shot struck a Pakistan defender inside the box, resulting in a crucial penalty for the Blue Tigers. Stepping up to take the penalty, Chhetri calmly slotted the ball into the net, extending India's lead to 2-0.
Indian captain Chhetri's performance in 2nd half
In the second half, at the 73rd-minute mark, Chhetri was brought down by Mohammad Sufyan inside the penalty area, granting India their second penalty of the match. Demonstrating his composure and skill once again, the Indian captain confidently converted the spot-kick, securing an impressive hat trick and sealing a resounding victory for his team.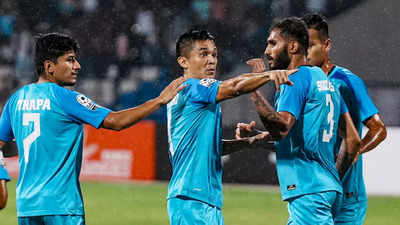 Chhetri's stellar performance not only showcased his individual brilliance but also contributed significantly to India's triumph over their arch-rivals, Pakistan, in the SAFF Championship.
In the closing moments of the first half, a heated altercation broke out between players from both the Indian and Pakistani teams during the SAFF Championship match. The incident was triggered when India's manager, Igor Stimac, attempted to take the ball from a Pakistani player. The situation quickly escalated, resulting in a chaotic confrontation between the players.
Before the situation could worsen, match officials intervened to restore order and allow the match to resume. However, due to his involvement in the altercation, Igor Stimac, the manager of the Indian team, was shown a red card and had to leave the technical area.
The incident added a dramatic twist to an already intense encounter between the arch-rivals, and the actions of both teams and the manager became a point of controversy during the match.