Former England fast bowler Stuart Broad has recently made headlines by announcing the release of his much-anticipated autobiography. The announcement comes on the heels of his retirement from international cricket after the Ashes 2023 series.
The 37-year-old cricketing icon, who has had a remarkable 17-year-long career representing England, will take readers on a captivating journey through the highs and lows of his life and career.
Broad's autobiography promises to provide an intimate glimpse into his illustrious career, giving readers a behind-the-scenes look at the moments that have shaped him both on and off the field. With a career spanning nearly two decades, he has amassed a wealth of experiences that cricket enthusiasts and fans alike are eager to delve into.
The 384-page book is set to be a treasure trove of insights, anecdotes, and reflections, making it a must-read for cricket aficionados and followers of Broad's remarkable journey.
ALSO READ: Revised schedule of ICC World Cup 2023 announced
Fans of the legendary pacer were quick to show their excitement, as Broad himself took to social media to share the news. He tweeted,
"It's been one of the most fun & entertaining summers of my career. Despite finishing on a glorious high at The Oval in the Ashes. It's been 17 years of peaks & troughs, I've loved it. In the comments, I'll put the link for pre-order!"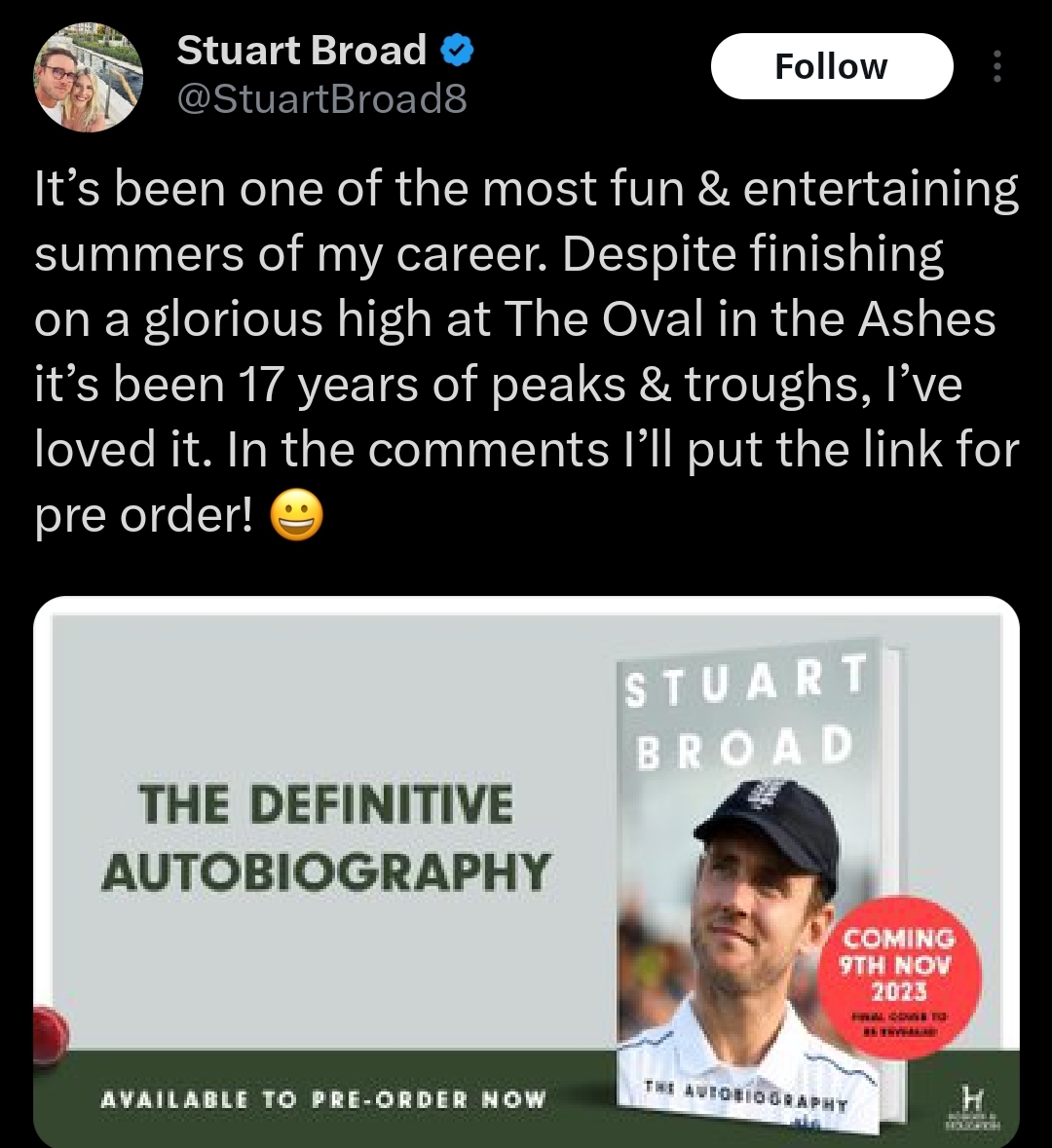 The post not only highlighted his sentiment towards his career but also provided followers with the link to pre-order signed and unsigned copies of his autobiography.
For those unfamiliar with his achievements, Stuart Broad solidified his name as one of the cricketing greats. He emerged as the second-highest wicket-taker among pacers in Test cricket, closely trailing his fellow English teammate James Anderson.
Broad's remarkable record boasts an impressive tally of 604 wickets in 167 Test matches. Additionally, he secured a remarkable feat by becoming England's top wicket-taker in Ashes series, amassing a staggering 153 wickets.
However, Broad's contribution to the game extends beyond his bowling prowess. He also showcased his batting abilities, holding the distinction of being the highest run-scorer among players batting from the No. 8 to 11 positions in Test matches. With a tally of 3663 runs, including a century and 13 fifties, he demonstrated his skill and determination across all aspects of the game.