PSL 2023 completed few days back with Lahore Qualanders beating Multan Sultan just by a run. The PSL fans witnessed such expectional performers throughout the PSL 2023. In this article,  we'll look top 5 best performers in the PSL 2023.
Mohammad Rizwan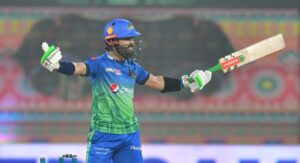 Mohammad Rizwan  scored the most runs in the Pakistan Super League , playing for the Multan Sultans team. Rizwan  played 12 matches in PSL 2023 and maintained an impressive average of 55 . He  scored a total of 550 runs, which has helped him secure the top spot on the PSL 2023 Orange Cap list. In this series, he has also scored one remarkable century and four half-centuries.
Babar Azam
Babar Azam, a well-known face in Pakistan cricket and a veteran batsman for the Peshawar Zalmi team, is in second place among the top run getters in PSL 2023. He has scored a total of 522 runs in 11 matches played . In this season, Babar has shown his excellent batting skills by scoring 1 stunning century and 5 half-centuries.
Imad Wasim
Karachi Kings all rounder Imad Wasim is among the best performers in PSL 2023. He scored 404 runs in 10 matches. Batting at an average of 134, he also scored 3 half-centuries and a century in this series. He also took 9 wickets at an average of 28.22.
Abbas Afridi
Pakistani bowler Abbas Afridi has taken 23 wickets in 11 matches at an average of 16.17. He remained at the top spot of the highest wicket takers in the PSL 2023. He emerged as a new bowling sensation in Pakistan . He can be quite handy in future for the Pakistan team.
Ihanullah
Pakistani bowler Ihsanullah has played 12 matches in this series. During this, he took 22 wickets while bowling brilliantly at an average of 15.77. He is second among the bowlers in the PSL 2023. He was named as the Man of the Tournament in the PSL 2023.