In the thrilling encounter between London Spirit and Oval Invincibles at The Hundred Men's Tournament 2023 on August 2nd in London, a remarkable moment took place that quickly went viral on social media.
During the third match of the tournament, Australian wicketkeeper-batsman Matthew Wade displayed outstanding fielding skills by preventing a certain six on the boundary line, creating a spectacle that left everyone amazed.
The incident occurred during the 94th delivery of Oval Invincibles' innings when they were chasing a target of 132 runs set by London Spirit. In a pivotal moment, with batsman Gus Atkinson attempting a flick shot towards deep square leg off bowler Jordan Thompson's delivery, Mathew Wade transformed into a superman-like figure.
Leaping into the air and brilliantly intercepting the ball just before it crossed the boundary line, effectively saving six crucial runs for his team.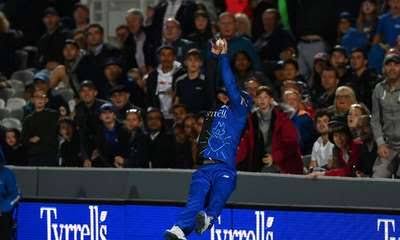 WATCH: Matthew Wade's superman effort on boundary
Earlier in the match, London Spirit had set a target of 131 runs, losing all their wickets in just 100 balls. Their innings saw contributions from Daniel Lawrence (24), Adam Rossington (39), and Mathew Wade (37).
In response, Oval Invincibles chased down the target in an exciting fashion, scoring 132 runs in 99 balls but losing 7 wickets in the process. All-rounder Sam Curran played a crucial role, scoring 34 runs, while Jordan Cox (22) and captain Sam Billings (25) also made valuable contributions to the team's victory.
ALSO READ: Top 3 memorable moments of Manoj Tiwary in the IPL
Sunil Narine's impressive performance with the ball and bat (13 runs, 2 wickets) earned him the well-deserved Player of the Match award.
The match showcased intense competition and skillful performances from both teams, but it was Matthew Wade's phenomenal fielding effort that stole the limelight. His exceptional athleticism and dedication to his team's cause made him the talk of the town and a social media sensation.