Legends League Cricket (LLC) on Saturday announced the complete schedule and fixtures for the highly anticipated upcoming 2023 season, which is to be played across five cities in India from November 18 to December 9, 2023.
Subscribe to our official youtube
In addition to this exciting fixture announcement, Legends League Cricket (LLC) is proud to announce that Paytm and Paytm Insider are the exclusive ticketing partners for LLC 2023. Tickets for the tournament will be available for purchase on Paytm and Paytm Insider soon, providing fans with the opportunity to secure their seats for this thrilling season of cricket.

This year's Legends League Cricket will be a six-team tournament and will be played across five
cities in India: Ranchi, Dehradun, Jammu, Vizag, and Surat.
The inaugural match of LLC 2023 is scheduled to kick off on November 18 in Ranchi, where the
The India Capitals will take on the Bhilwara Kings. This game promises to be a thrilling encounter. as it is a replay of the 2022 final, where the India Capitals defeated the Bhilwara Kings by 104 runs to lift the coveted trophy.
Overall, 19 matches will be played across 22 days in what promises to be an exciting tournament.
as Legends unite to define sheer class in the LLC 2023.
After Ranchi, the action will shift to Dehradun on November 24, with the Bhilwara Kings
clashing with the Gujarat Giants in what will be the sixth match of the season.
In Jammu, four matches will be played from November 27 to December 1, while in Vizag, three
The games will be staged from December 2 to December 4.
The knockout phase of LLC 2023 will be played in Surat, with the semi-finals taking place on
December 5 and December 6, setting the stage for the grand season finale, which is scheduled for
December 9.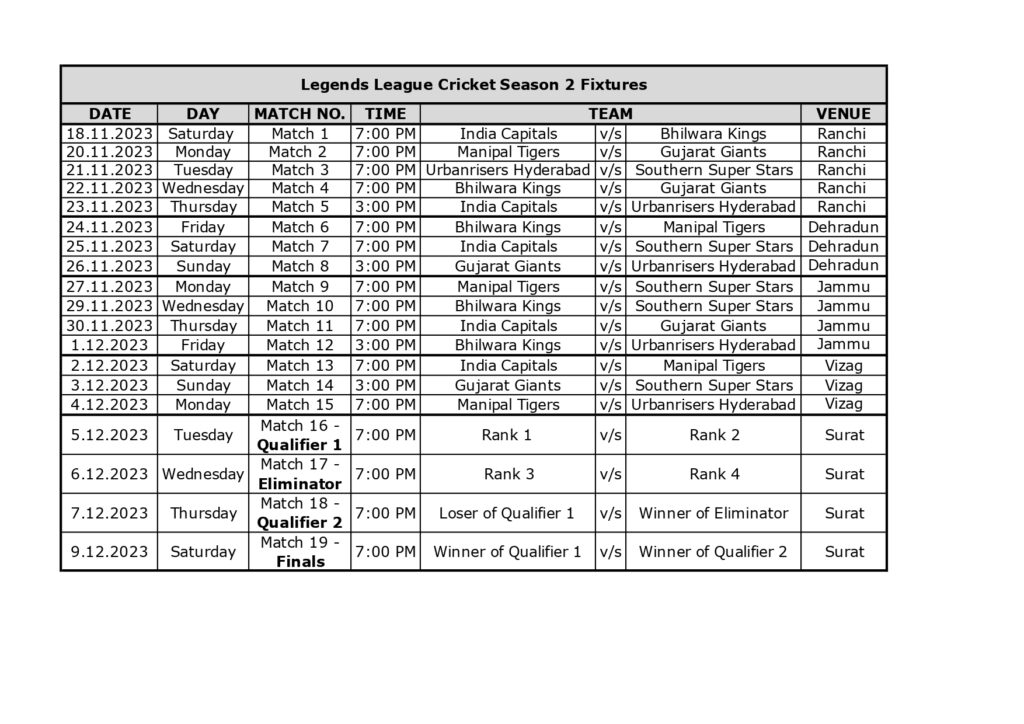 Raman Raheja, Co-Founder and CEO, Legends League Cricket, said, "Legends League
Cricket last season was a huge success, and we are ready to entertain the fans in the upcoming
season. With the games being played at Ranchi, Dehradun, Jammu, Vizag, and Surat, we are not
just hosting a tournament; we are spreading the love for the game far and wide in the country.
We partnered with Paytm and Paytm Insider, which has a wider customer base and reach for ticket sales as well, which will help us bring more fans to the stadium."
Former Indian cricketer Suresh Raina will captain the new franchise, Urbanrisers Hyderabad, in
LLC. The second new franchise this season announced by LLC is the Southern Superstars. It
will be captained by former Australia skipper Aaron Finch.
The first match of the tournament will see former Indian cricketers Gautam Gambhir (India)
Capitals) and Irfan Pathan (Bhilwara Kings) facing each other as captains on November 18.