Cricket , often referred to as a gentleman's game, is a sport that has captured the hearts of millions around the world. With its rich history and intricacies, cricket requires a specific set of equipment to be played effectively and safely. This essay outlines the essential kit items required to indulge in the exciting game of cricket.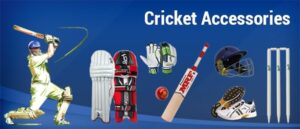 At the heart of cricket lies the quintessential cricket bat. Crafted with precision and tradition, the cricket bat is an essential tool for any player. It serves as the means to strike the ball and accumulate runs, showcasing the unique skills of each individual. A well-balanced and properly sized bat is crucial for players to achieve their best performance on the field.
Accompanying the bat is the cricket ball, a leather-covered sphere with pronounced stitching. The ball's construction allows for controlled swing, seam movement, and spin, creating a challenging contest between the batsman and bowler. Its distinct red or white color, depending on the format of the game, further adds to the game's visual appeal.
The wickets and stumps form the centerpiece of the cricket field, representing the target for both batsmen and bowlers. The wickets consist of three stumps and two bails, carefully set up at each end of the pitch. The bowler's objective is to dislodge the bails, while the batsman aims to protect them. This iconic setup embodies the essence of cricket's strategic battles.
To ensure the safety of players, cricket mandates the use of protective gear. Helmets, gloves, and pads offer essential safeguards against fast-paced deliveries and unexpected bounces. Helmets, in particular, shield the head and face from potential injuries, underscoring the significance of player safety in the sport.
Proper attire is another crucial aspect of cricket equipment. Players commonly wear white clothing for traditional formats, while colored uniforms are embraced in limited-overs matches. These uniforms not only signify team identity but also provide comfort and functionality for players throughout the match.
Additionally, specialized cricket shoes are integral to a player's performance. These shoes provide traction on grass or turf surfaces, enabling players to make quick movements, secure their footing, and execute precise shots or deliveries.
In conclusion, the game of cricket demands a specific set of equipment to facilitate both its artistry and competitiveness. From the graceful sweep of a cricket bat to the meticulous seam movement of a cricket ball, each element contributes to the allure of the sport. Wickets and stumps stand as a testament to the game's historic roots, while protective gear ensures players' safety. Attire and footwear not only uphold tradition but also support players in showcasing their skills to the fullest. As players step onto the field equipped with these essentials, they become part of a global legacy that continues to capture imaginations and unite cricket enthusiasts across the world.