The schedule for the ICC Men's Cricket World Cup Qualifier has been released, following the confirmation of the 10 teams that will feature at the event hosted in Zimbabwe from 18 June – 9 July 2023.
The 10 teams taking part in the qualifier are split into two groups of five teams. Hosts Zimbabwe, the West Indies, the Netherlands, Nepal and the United States make up Group A, while Sri Lanka, Ireland, Scotland, Oman and the United Arab Emirates form Group B.
Each side will play the other teams in their group once with the top three from each group progressing to the Super Six stage. In the Super Six, they will play the sides they did not meet in the group stage. All points won in the group stage will be carried over to the Super Six stage apart from those gained against the teams that fail to make it to the Super Six stage. The finalists will progress to the ICC Men's Cricket World Cup 2023 main draw.
For the first time in this tournament, DRS will be used for all matches from the Super Six stage onwards.
The Qualifier is the culmination of four years of hard-fought competition that brings together the bottom five teams from the ICC Men's CWC Super League, three automatic qualifiers from the ICC Men's CWC League 2 and two teams who gained entry from the ICC Men's CWC Qualifier Play-off.
Venues
Queen's Sports Club and Bulawayo Athletic Club in Bulawayo, Harare Sports Club and Takashinga Cricket Club in Harare will share 34 matches between them, with Harare Sports Club staging the final on 9 July. Old Hararians Cricket Club will also host warm-up fixtures.
ICC MEN'S CRICKET WORLD CUP QUALIFIER FIXTURES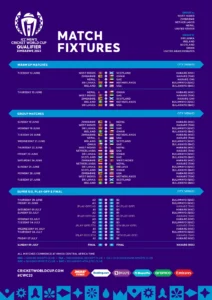 Sunday, 18 June
Zimbabwe v Nepal, Harare Sports Club; West Indies v USA, Takashinga Cricket Club
Monday, 19 June
Sri Lanka v UAE, Queen's Sports Club; Ireland v Oman, Bulawayo Athletic Club
Tuesday, 20 June
Zimbabwe v Netherlands, Harare Sports Club; Nepal v USA, Takashinga Cricket Club
Wednesday, 21 June
Ireland v Scotland, Queen's Sports Club; Oman v UAE, Bulawayo Athletic Club
Thursday, 22 June
West Indies v Nepal, Harare Sports Club; Netherlands v USA, Takashinga Cricket Club
Friday, 23 June
Sri Lanka v Oman, Queen's Sports Club; Scotland v UAE, Bulawayo Athletic Club
Saturday, 24 June
Zimbabwe v West Indies, Harare Sports Club; Netherlands v Nepal, Takashinga Cricket Club
Sunday, 25 June
Sri Lanka v Ireland, Queen's Sports Club; Scotland v Oman, Bulawayo Athletic Club
Monday, 26 June
Zimbabwe v USA, Harare Sports Club; West Indies v Netherlands, Takashinga Cricket Club
Tuesday, 27 June
Sri Lanka v Scotland, Queen's Sports Club; Ireland v UAE, Bulawayo Athletic Club
Thursday, 29 June
Super 6: A2 v B2, Queen's Sports Club
Friday, 30 June
Super 6: A3 v B1, Queen's Sports Club; Playoff: A5 v B4, Takashinga Cricket Club
Saturday, 1 July
Super 6: A1 v B3, Harare Sports Club
Sunday, 2 July
Super 6: A2 v B1,  Queen's Sports Club; Playoff: A4 v B5, Takashinga Cricket Club
Monday, 3 July
Super 6: A3 v B2, Harare Sports Club
Tuesday, 4 July
Super 6: A2 v B3, Queen's Sports Club; Playoff: 7th v 8th Takashinga Cricket Club
Wednesday, 5 July
Super Six: A1 v B2, Harare Sports Club
Thursday, 6 July
Super Six: A3 v B3, Queen's Sports Club; Playoff: 9th v 10th Takashinga Cricket Club
Friday, 07 July
Super Six: A1 v B1, Harare Sports Club
Sunday, 09 July
Final, Harare Sports Club
WARM-UP FIXTURES
Tuesday, 13 June
West Indies v Scotland, Harare Sports Club
Zimbabwe v Oman, Takashinga Cricket Club
Nepal v UAE, Old Hararians Cricket Club
Sri Lanka v Netherlands, Queen's Sports Club
Ireland v USA, Bulawayo Athletic Club
Thursday, 15 June
Nepal v Oman, Harare Sports Club
West Indies v UAE, Takashinga Cricket Club
Zimbabwe v Scotland, Old Hararians Cricket Club
Ireland v Netherlands, Queen's Sports Club
Sri Lanka v USA, Bulawayo Athletic Club