IND vs AUS Test Series India will host Australia in the Border-Gavaskar Trophy starting on 9 February. The first test match of the 4 test match series will be played in Nagpur and the last match will be in Ahmedabad.
Both the teams have started their preparations for the series at different places.
Australia is training in Bengaluru, while Indian players have also started practice in Nagpur. At the same time, a tweet by Karthik has sparked a new debate in the cricket world and it is whether Karthik will be given a place in the team against Australia in place of Rishabh Pant?
Dinesh Karthik tweeted this information –
A week before the start of the series, Dinesh Karthik has made a cryptic tweet which has taken cricket fans by surprise. Karthik, who has been running out from the national team since the 2022 T20I World Cup, announced that he is set to make another debut against Australia.
The announcement has sent a wave of curiosity and excitement among the fans. The fans were eagerly waiting for the return of the veteran wicket-keeper batsman.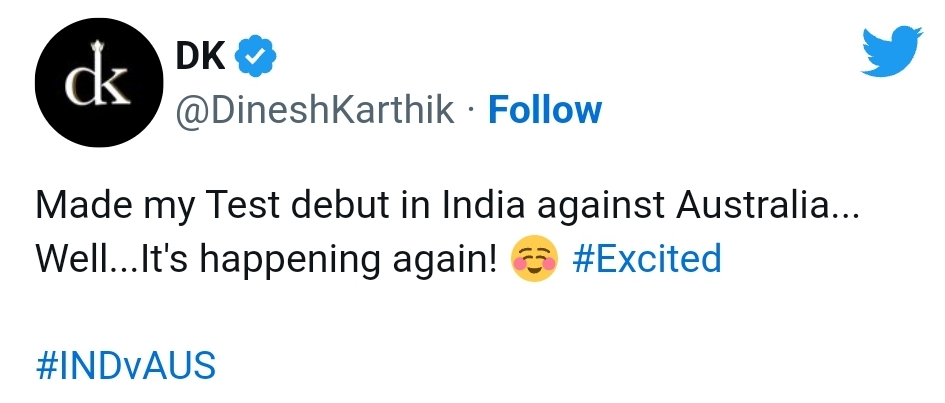 Karthik wrote on his Twitter handle, "Made my Test debut in India against Australia…well done…it's happening again!" Cricket fans have replied on this tweet. Many users have congratulated him.
Former India opener Aakash Chopra congratulated Dinesh Karthik and wished him all the best. However, cricket fans are confused by his tweet.
Akash Chopra congratulated DK –
Let us tell you that Dinesh Karthik is not returning to the team. Dinesh Karthik will not play for Team India again, but he will make his domestic commentary debut in the Border-Gavaskar Trophy. After a surprise return to the T20I squad after IPL 2022, Karthik turned commentary in 2021.
After being left out of the national team since the 2019 ODI World Cup, Karthik has signed up with Sky Sports for the 2021 season. He did commentary for the India-England series from his home.