The draft schedule for the much-anticipated Asia Cup 2023 has been officially disclosed by ESPNcricinfo, setting the stage for an epic clash between cricketing giants India and Pakistan. The official schedule to be announce at 7:30 PM IST today by ACC.
The tournament, originally planned to begin on August 31, will now kick off on August 30 in Pakistan, one day earlier than previously announced by the Asian Cricket Council (ACC).
The eagerly awaited group stage encounter between India and Pakistan will take place on September 2 in the picturesque city of Kandy at the famous Pallekele stadium. Fans from both nations and cricket enthusiasts worldwide are bracing themselves for this high-stakes match that always evokes emotions and competitive spirit.
ALSO READ: Ajit Agarkar to meet Rahul Dravid and Rohit Sharma for World Cup talks
In the upcoming Asia Cup 2023, Pakistan will host a single Super 4s match. The game, scheduled for September 6, will see the top-performing team A1 taking on the second-best team from the group stage, Team B2. Cricket enthusiasts are eagerly anticipating this high-stakes encounter, as it will play a crucial role in determining the finalists of the tournament.
Furthermore, the draft schedule indicates the possibility of a thrilling rematch between arch-rivals India and Pakistan on September 10 in Kandy, provided both teams successfully advance to the next round. The anticipated clash has already captured the attention of fans worldwide, as India and Pakistan's cricketing battles have a history of delivering gripping contests.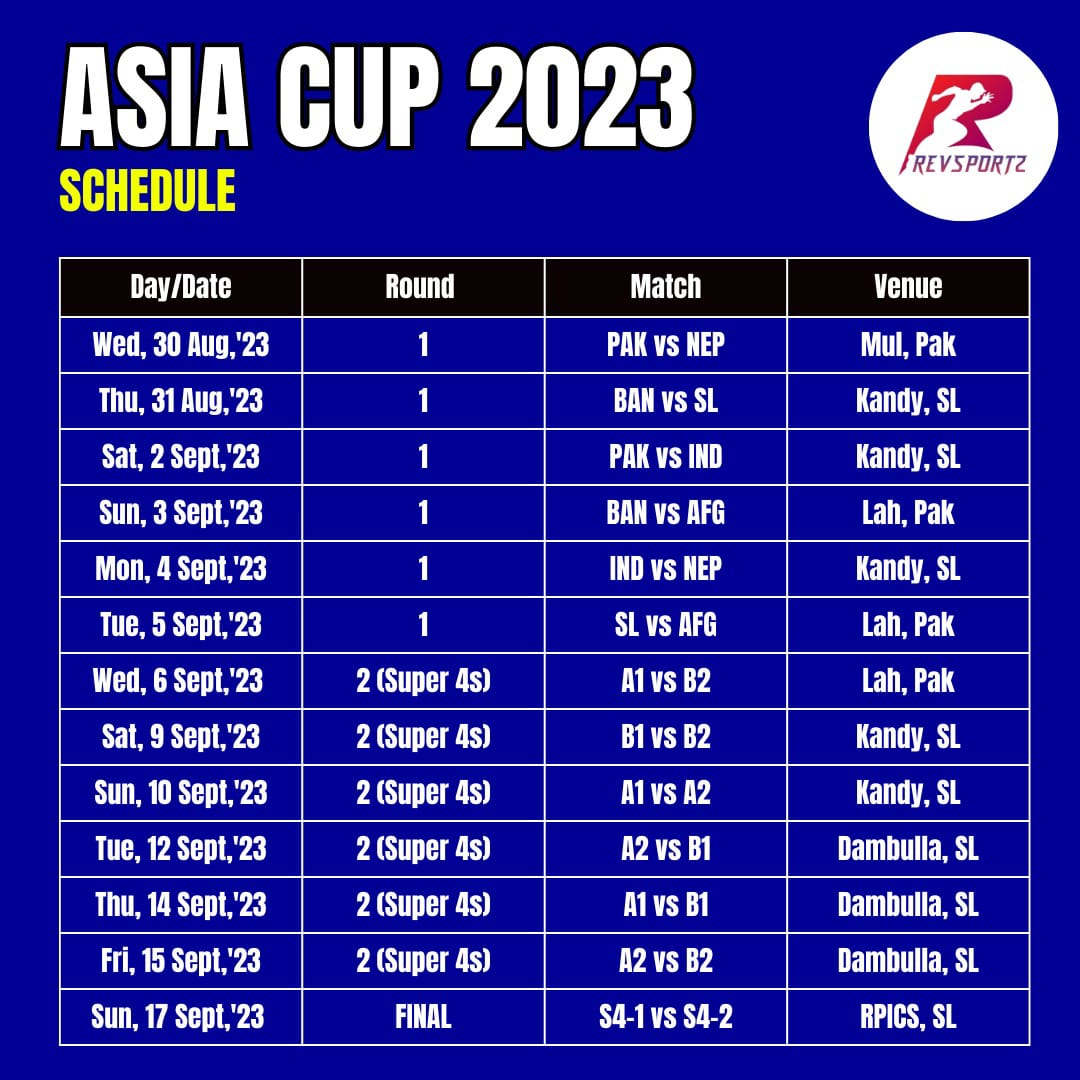 As anticipated in Asia Cup 2023, placing Pakistan alongside traditional rivals India and Nepal in one group, while Afghanistan, Bangladesh, and Sri Lanka form the other group. Each team will compete against their group rivals once during the initial round, and the top two sides from each group will progress to the Super 4s stage.
In the Super 4s round, teams will face off against each other once, and the top two teams will advance to the final. Excitingly, all matches are scheduled to begin at 1:00 PM Pakistan Standard Time, which corresponds to a 1:30 PM start in both India and Sri Lanka.
ALSO READ: Stuart Board's wife Mollie reveals about her favourite cricketer
The Asia Cup 2023 will feature top cricketing nations from the Asian continent, competing in a round-robin format during the group stage. The top four teams will advance to the semi-finals, leading up to a thrilling final that will determine the new champion of the prestigious tournament.