Sports have an incredible ability to bring people together, transcending borders and languages, and uniting fans from all walks of life. While the popularity of specific sports can vary from region to region, there are certain sports that have captured the hearts of millions worldwide. Let's explore the top 10 most popular sports in the world in 2023.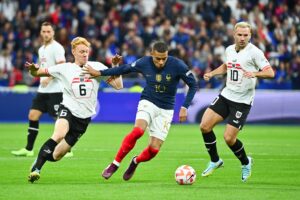 Soccer (Football):Undoubtedly the world's most popular sport, soccer boasts a fan base that spans every corner of the globe. With its simplicity and accessibility, it's a game that can be played and enjoyed by anyone.
Cricket: Cricket's immense popularity is concentrated in countries like India, Pakistan, Australia, and England. Its epic battles, spanning multiple formats, have made it a cultural phenomenon.
Basketball: The NBA's influence has propelled basketball to global stardom. Fast-paced and exciting, it's a sport that's beloved from North America to Asia and beyond.
Tennis: Tennis captivates fans with its individual brilliance and fierce rivalries. Grand Slam events like Wimbledon and the US Open draw massive global audiences.
Golf: The allure of golf lies in its precision and elegance. Majors like the Masters and the British Open are watched by fans worldwide, and the sport continues to grow.
American Football: While primarily popular in the United States, American football's Super Bowl is a globally watched spectacle, making it one of the top sports in the world.
Baseball: Baseball's popularity extends from North America to parts of Asia, with Japan being a prominent baseball-loving nation.
Rugby: Rugby's thrilling physicality and international tournaments like the Rugby World Cup have earned it a passionate following in countries like New Zealand, England, and South Africa.

Formula 1: The pinnacle of motorsports, Formula 1 races around the world, drawing enthusiasts who appreciate the technology, speed, and skill involved.
Hockey: Ice hockey is beloved in regions like North America, Europe, and Russia, with the NHL and international competitions showcasing top-level talent.
These sports have a universal appeal that transcends cultural and linguistic barriers. Whether it's the World Cup, the Olympics, or championship events, they provide moments of excitement and unity for sports fans worldwide. No matter where you are, you're likely to find people who are passionate about one or more of these top 10 sports, making them truly global phenomena.
In the end, the love for sports is a testament to the power of competition, athleticism, and the shared joy of witnessing human achievement on the world stage.