The fight between former India opener Gautam Gambhir and former Pakistan captain Shahid Afridi is not hidden from anyone. In 2007, there was a fierce dispute between the two in the match, after which both of them called each other bad on many occasions.
Whether it is on TV or social media, the dispute between Gambhir-Afridi has not stopped anywhere.
In Legends League Cricket 2023, Gautam Gambhir and Shahid Afridi came face to face on Friday. Gautam Gambhir was captaining the India Maharajas while Shahid Afridi was leading the Asia Lions. At the time of the toss, Gambhir-Afridi had to shake hands with each other. Then the atmosphere became very strange.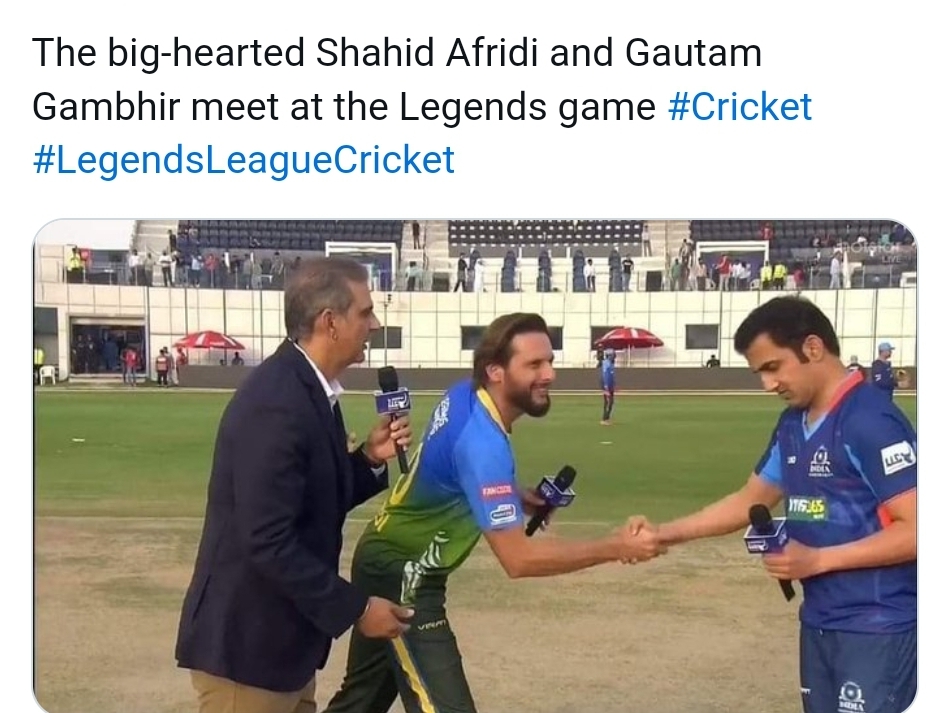 A smile was visible on Shahid Afridi's face, but no emotion was visible on Gautam Gambhir's face. What was it then, users flooded the social media with memes. See what kind of memes were made on social media regarding both.
Viral video in which through a meme Gambhir-Afridi shaking hands discussed
Gambhir-Afridi face to face in the ground –
The Gambhir-Afridi affair escalated when the two came face-to-face in the playground. Afridi was bowling while Gautam Gambhir was batting. Afridi bowled 10 balls to Gambhir, in which the left-hander scored 10 runs including a four.
There was also an incident where Gambhir took a single off Razzaq and the bowler appealed for LBW. Then Afridi went and asked Gambhir whether the bat was attached, Gambhir shook his head in the negative.
Let us tell you that in this match, Asia Lions made a winning start in the tournament by defeating India Maharajas by 9 runs. Asia Lions batting first scored 165 runs losing 6 wickets in 20 overs. In response, the team of India Maharajas could score 156 runs losing 8 wickets.
Gautam Gambhir scored 54 runs in 39 balls with the help of seven fours. Afridi scored 12 runs in 8 balls with the help of two fours and did not get any wicket.
Robin Uthappa magical catch behind the wickets – watch