Team India's star player Virat Kohli ended his century drought in Test cricket in the fourth Test match being played between India and Australia in Ahmedabad.
After 3 years, Virat's bat got to see a century in the Test. He scored 186 runs facing 364 balls. Let us tell you that Kohli was ill before this match, which was revealed by his wife Anushka Sharma in her Instagram story.
Virat Kohli scored a strong century despite being ill –
Actually, after scoring the 75th century of Virat Kohli's international cricket career, his wife Anushka Sharma said a heart touching thing about Kohli on Instagram. Anushka wrote on the story with the video of Kohli's century, "He played so well even in the midst of illness.You always inspire me."
Let us tell you that till the end of the fourth day's play, the Indian team scored 571 runs. After this the Australian team scored 3/0 in the second innings. In the first innings, Kohli scored his century in Tests after a long gap of 1205 days. He made his highest score against Australia.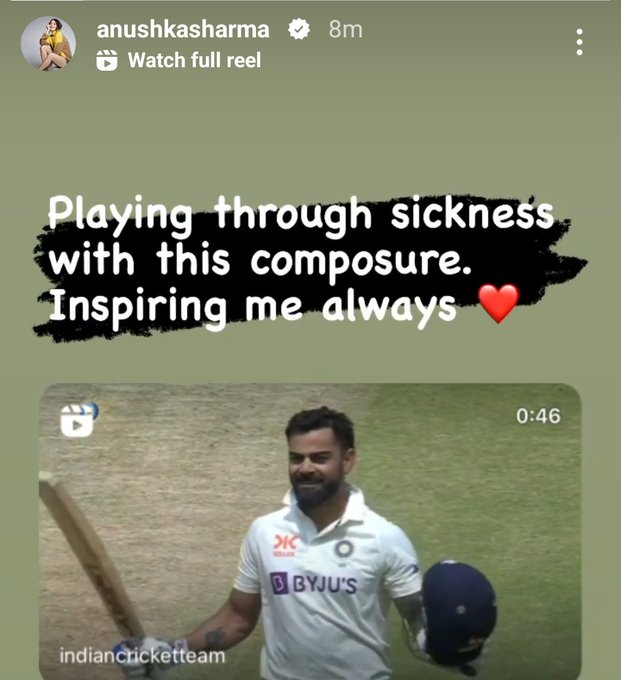 In terms of centuries, Virat broke a record of Clarke and Hashim Amla. He has left behind both these batsmen in terms of scoring 28 centuries. Clarke scored 28 centuries in 198th innings of 115 Tests, while Virat achieved this feat in 183rd innings of 108th Test.
It may be noted that during the 2022 Asia Cup last year, Virat Kohli scored his 71st century in international cricket. This century was the first century of his T20I career. During that time he played a stormy inning of 122 runs facing 61 balls.
Another setback for Mumbai Indians for IPL 2023 – CHECK
At the same time, in the year 2023, Virat Kohli scored a brilliant century in the first ODI against Sri Lanka. Along with this, he also played an unbeaten inning of 166 runs in the last ODI.