"Catches win matches" is a true saying. Some extraordinary catches can change the course of the games. There have been many incredible fielding efforts in the IPL history. In this article, we'll look at the top 5 catches in the IPL history.
 Jofra Archer
Rajasthan Royals vs Mumbai Indians ,2020
Archer's match-winning performances with the ball and cameos with the bat were enough to make the Most Valuable Player  for the 2020 IPL, but he also provided an unforgettable moment in the field.
Placed at third man, Archer initially misjudged the the ball off Ishan Kishan's bat, running several steps in from the boundary.When he realised his mistake, he started to backtrack before leaping and sticking out his right hand.Unbelievably, the ball stuck, and Archer's team-mates were left with their hands on their heads in disbelief.
Ajinkya Rahane
  Rajasthan Royals vs Pune Warriors India, 2012
Most catches are examples of individual brilliance, so it makes a nice change when a stunner comes about thanks to some great teamwork.Rahane took the credit for the final catch here, but really it was Royals teammate Johan Botha who did most of the hard work.
Taking the catch as he sprinted towards the long-off boundary, Botha had the presence of mind to turn and throw the ball to Rahane, who was some distance away from him.
Botha managed to find Rahane perfectly with his throw, and Rahane took a simple catch to complete the dismissal.
AB de Villiers
Royal Challengers Bangalore vs Sunrisers Hyderabad, 2018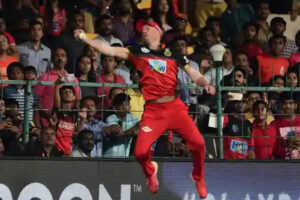 AB de Villiers is never far from a 'best of' list, and he comes in at no.3 here with an effort that was described by his captain, Virat Kohli, as 'freakish, Superman stuff.'Fielding at deep midwicket, de Villiers was called into action as Sunrisers batsman Alex Hales pulled a short ball from Moeen Ali towards him.Running around the boundary to his right, de Villiers set himself before jumping up and throwing out his right hand to pluck the ball out of the air, almost from beyond the boundary.After his right foot landed just inside the rope.
Chris Lynn 
Kolkata Knight Riders vs Royal Challengers Bangalore, 2014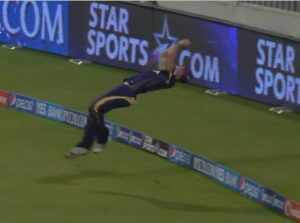 Pulling hard to the boundary between midwicket and long-on, de Villiers looked set to add at least four to his score.When the fielder in pursuit, Chris Lynn, lost his footing, such an outcome seemed inevitable.Lynn, however, steadied himself, arched his back, took the catch in mid-air and then managed to contort his body to avoid the boundary rope.It was quite simply a breath-taking effort, and undoubtedly one of the greatest catches in the history of the IPL.
 Kieron Pollard
Mumbai Indians vs Rajasthan Royals, 2014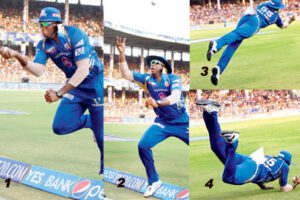 This effort from Pollard takes top spot on our list because it is essentially two stunning catches in one.Royals batsman Kevon Cooper probably thought he'd got enough on his hook to long-on, but Pollard had other ideas.
After plucking the ball out of the air with his right hand at full stretch, Pollard stumbled to within a centimetre of the rope before throwing it back into play over his head.As he turned around, Pollard almost lost his footing before charging four steps towards the ball and taking a one-handed diving catch.The third umpire took a while to check the catch but Cooper was eventually given out, confirming the greatest catch in IPL history.