The Pakistan Cricket Board (PCB) has done few good changes towards  the  development of women cricketers and has raised the salaries of the centrally contracted players. But the number of players in the central contract has been reduced this time. In 2018, 17 players were included in the central contract of the Pakistan Cricket Board but this time the number is reduced to 10.
All three categories – A, B and C – the salary amount has been increased now compared to the earlier central contract. An increments of 20%, 18.5% and 18% has been given to the three categories respectively. According to the recent central  contract , Sana Mir and Nida Dar who are in the A category will now earn PKR 120,000 (Rs 52,047). Bismah Maroof and Javeria Khan have been demoted to B category and they will get PKR 94,800 (Rs 41,117). The players in the C category will earn PKR 70800 (Rs 30,708).
The length of the contract has also been increased from six months to one year now starting from July 1. However, these compensations are very less when compared to the Indian Women cricketers. India's top female players like  Harmanpreet Kaur, Smriti Mandhana and Poonam Yadav who are in A category earn Rs 50 lakhs. The rest of the two categories also get a huge sum of Rs 30 lakhs (B category) and Rs 10 lakhs ( C category) respectively.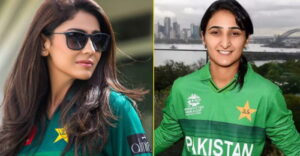 Among other changes in the latest contract, the daily allowances in the training camps have doubled and the players will now be paid Rs 2000. The travel has also been upgraded for Pakistan Women cricketers and now they will be travelling in business class. All the women cricketers will now be earning a match fee for each domestic game.
"The announcement of the new central contracts is a great story for the women's game in Pakistan and indicates the exciting times that lie ahead for cricketers in the country. The women cricketers have shown tremendous improvement recently and this is reflected in the central contracts being offered to them, which are reward-and incentive-based," the chief selector for the women's team, Urooj Mumtaz said.
Here are the centrally contracted players:
Category A – Sana Mir, Nida Dar.
Category B – Aliya Riaz, Bismah Maroof, Javeria Khan, Nashra Sandhu, Sidra Ameen, Sidra Nawaz.
Category C – Diana Baig Nahida.