In many countries the match broadcasting is done live and free-to-air. In India, the cricket match broadcaster is bound to share the live feed with the Doordarshan channel, the national broadcaster of India, of the cricket matches which are of national importance.  Doorsarsh only share his broadcast with the terrestrial TV network on home platforms.
Doordarshan is not allowed to share this feed with any other channel or DTH service provider. From 2017, all International games irrespective of the format played by the Indian Men's team, knockout games of ICC events are considered as the matches of national importance.
In Australia an anti-siphoning list gives the free-to-air broadcasters the first right to negotiate. For cricket, it includes all Test matches that Australian team plays at home or in England, home ODIs and home T20 International games. It also includes Australia's matches in the World Cup or World T20 when played at home, and the final of any tournament hosted in Australia or New Zealand.
In England,  Test matches involving the England  team and ICC tournaments involving home nations as well as semi-finals and finals are included in the category B list of the Ofcom Code on Sports and Other Listed and Designated Events. Category B events are allowed to be broadcast on pay TV network . There is enough secondary coverage in the form of highlights and delayed broadcasts.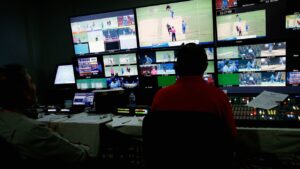 Various cricket boards and the ICC often sell the broadcasting rights first to a primary broadcaster who may later resell those rights to other streaming or broadcast partners in territories where the original broadcaster has no presence. Star Sports bought the global rights for IPL in all countries and all platforms from BCCI and later resold these rights to Sky Sports for the European region.
Broadcasting Contracts for Cricket (Television)
Source: Wikipedia
Event
Broadcaster
Rights Details
ICC Events
Star Sports and Disney+ Hotstar
Global audio visual rights for all events organized by ICC for 8-year period 2015–2023. Starts after 2015 World cup. Camera, Commentary and the whole production rights are retained by ICC and taken care by an umbrella organisation called ICC TV.[7]
English Cricket Domestic Rights
Sky SportsBBC Sport (Highlights)
UK and Ireland rights on all platforms for all games organized by ECB including International, Domestic and T20 League for 5-year period 2020–24
Indian Cricket Domestic Rights
Star Sports, Disney+ Hotstar and state owned free to air channel DD Sports (All Tests, ODIs and T20 played by India)
Global rights for all games organized by BCCI other than Indian Premier League for the 5-year period 2018–23.
Indian Premier League
Star Sports and JioCinema(Internet)
Indian rights for all IPL matches for the 5-year period 2023–2027.
Australian Cricket Domestic Rights
Channel 7 (only test matches and Big Bash League) and Fox Cricket (all matches and Big Bash League)
Australian rights for all Cricket organized by CA including International, Domestic and Big Bash League for 6-year period 2018–2024.
South African Cricket Domestic Rights
Supersport and Star Sports
Rights for all cricket organized by CSA from May 2015 through April 2021
Pakistani Cricket Domestic Rights
PTV Sports , Daraz
All International & Domestic Cricket Matches in Pakistan organized by PCB from 2020 to 2023 for Broadcast in Pakistan (does not include Pakistan Super League)Daraz obtained the rights for live streaming Pakistan vs New Zealand and all other upcoming Pakistan series in 2021.
Pakistan Super League
Geo Super and PTV Sports , Sky Sports , Sky (New Zealand) , SuperSport , Willow TV , Sony Sports India, Flow Sports
West Indian Cricket Domestic Rights
Flow Sports , Goldmines TV
New Zealand Cricket Domestic Rights
Spark Sport from April 2020
Sri Lankan Cricket Domestic Rights
Sony Pictures Networks India
Bangladeshi Cricket Domestic Rights
GTV, T Sports and Goldmines TV
Bangladesh Premier League
GTV, Maasranga Television ,Enterr 10 Television Network and Rabbithole Sports
Channel 9 was the official broadcaster From 2012 to 2016.Later on, GTV and Maasranga Television bought the right to broadcast on Satellite TV. Rabbithole Sports were also digitally live streaming all the matches. Enterr 10 TV Network
Zimbabwe Cricket Domestic Rights
Total Sports Management
Rights for all home cricket series of Zimbabwe Cricket for the period of 2015-2023.