India's star wicketkeeper-batter, Rishabh Pant will miss the 2023 edition of the Indian Premier League, former BCCI President , Sourav Ganguly confirms on Tuesday.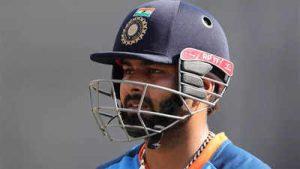 Rishabh Pant, who miraculously survived a  car accident last month, recently had a successful knee surgery at a hospital in  Mumbai .
Rishabh Pant suffered multiple injuries when he crashed his Mercedes SUV north of New Delhi  on December 30. The car caught the flames and he was rescued by a bus driver and conductor.
"Rishabh Pant will not be available for the IPL," Sourav Ganguly said, who is set to join Delhi Capitals as director of cricket .
Rishabh Pant is the captain of the Delhi Capitals  in the IPL, which will begin in late March or April with some of the biggest international stars of the game.
"It will be a great IPL , we will do well but Rishabh Pant's injury will affect the Delhi Capitals," Ganguly said on Tuesday.
After the accident, Rishabh Pant rushed to hospital and admitted for a few days before being airlifted to Mumbai for further treatment and surgery.
The Indian cricket board said that Rishabh Pant suffered several injuries including a damaged ligament in his right knee, a hurt wrist and ankle, and abrasions on his back.
Rishabh Pant is a key player of the Test squad and has played a key role in some of India's most memorable wins in the last three years, especially in Australia.
Rishabh Pant is also expected to miss Australia's upcoming tour of India in February and March, when the arch-rivals will play four Tests and will look to qualify for the World Test Championship final 2023.