​Pakistan Cricket Board has expressed its preference regarding the selection of venues in India they want to play at during the 2023 ICC Men's World Cup. As per reports, the Pakistan Cricket Board has given its suggestion of two venues where they feel safe as they will play at least 9 matches in the  tournament.
According to the ICC sources, the venues are Kolkata and Chennai and not the two central hubs, Delhi and Mumbai.
As per a report , Pakistan Cricket Board's  senior members are constantly in ongoing talks with the ICC. Pakistan felt safe at the two above mentioned venues, Kolkata and Chennai on their earlier tours of India.
"A lot will depend on what BCCI and the Indian government decide but given a choice, Pakistan will like to play most of its World Cup matches in Kolkata and Chennai. "In Kolkata, Pakistan played its T20 World Cup game against India in 2016 and the players were very happy with the security. Similarly, Chennai as a venue remains memorable for Pakistan. It's also about feeling safe at specific venues," a source close to ICC Board.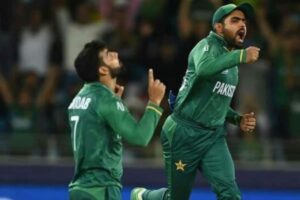 The World Cup is likely to kick start from October 5 with a total of 46 matches to be played. Ahmedabad, Bengaluru, Delhi, Mumbai, Rajkot, Guwahati, Chennai, Kolkata, Hyderabad and Indore are some of the finalised venues for the tournament. Each team will play 9 games in the tournament, which will be played in a round-robin format. The biggest game as usual will be the India-Pakistan match and the most anticipation for a venue will be for the big-ticket encounter.
Earlier, PCB Chairman Nam Sethi neglected the idea of playing World Cup games in 'hybrid' model in Bangladesh. ICC General Manager Wasim Khan had told media in Pakistan that the team could play its matches in Bangladesh but ICC has made it clear that no such proposal has been made about global tournament.