On Saturday, new face Mukesh Kumar made a significant impact in international cricket by dismissing West Indies' Kirk McKenzie, claiming his first-ever wicket in Test cricket. The breakthrough came in the 52nd over of the hosts' innings, reducing them to 117/2.
The left-handed batter, McKenzie, was batting well at 33 off 95 deliveries when he attempted to take on a slightly short delivery from Mukesh. However, the ball unexpectedly nipped back and resulted in a top edge, offering an easy catch to wicketkeeper Ishan Kishan.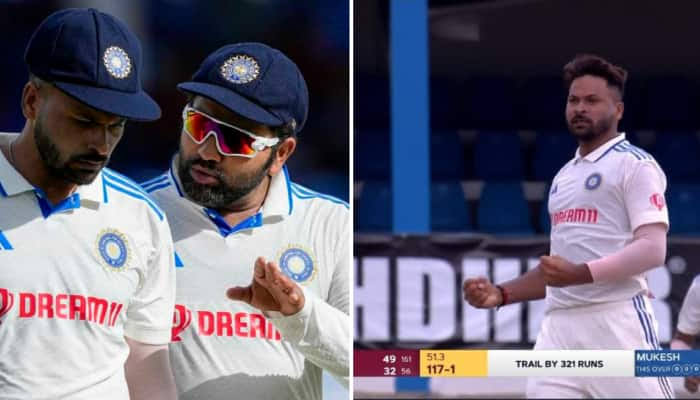 India, after posting a formidable total of 438 runs, was in a commanding position with a lead of 321 runs. The impressive score was primarily built on the back of stellar performances from Virat Kohli, who scored 121 off 206 balls, and Rohit Sharma, contributing 80 runs from 143 balls.
WATCH: Mukesh Kumar's maiden wicket on Intl level
Before Mukesh's breakthrough, it was Ravindra Jadeja who set the tone for India's bowling attack. He managed to dismiss opener Tangerine Chanderpaul by consistently building pressure and enticing a rash shot outside the off-stump. The mistimed shot found an edge and was caught by Ravichandran Ashwin at third man.
Mukesh Kumar earned his spot as the 308th Test player for India, receiving his cap from Ashwin. Despite not taking the field during the first two days of the match, Mukesh shared a heartfelt and emotional conversation with his mother after making his debut.
In a touching interaction with the Board of Control for Cricket in India (BCCI), Mukesh shared his mother's words of encouragement and blessings. 'She expressed her wish for her son to always be happy, keep progressing, and succeed in his cricketing career, not fully comprehending the significance of representing India in the sport. Mukesh cherished the moment, recognizing it as an essential milestone in his life.'
ALSO READ- Harmanpreet Kaur fumes after being declared out, hits stumps: WATCH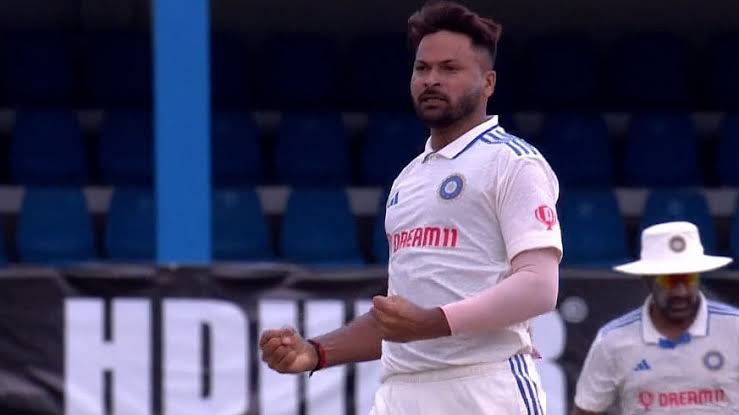 The right-arm pacer brings an impressive record to the team, with 149 wickets in 39 first-class matches at an impressive average of 21.55. His aspiration to pick up more wickets in the West Indies' innings promises to add to India's advantage in the ongoing match.
.