Cheteshwar Pujara, a veteran Indian batter, has been dropped from the Indian Test squad for the upcoming tour of the West Indies. Pujara has struggled for form over the last few seasons, leading to his exclusion from the team. Despite a recall for the Test against England last year, Pujara's recent performances, including the World Test Championship final against Australia, have been disappointing.
Subscribe to our official youtube
Why Cheteshwar Pujara was dropped?
In his last 35 Test matches, Pujara has only managed one century, scoring 1760 runs at an average of 29.98. His overseas record during this period has been particularly poor, with low averages in countries like England, Australia, New Zealand, and South Africa. These statistics indicate a decline in Pujara's batting skills and raise questions about his future in Test cricket.
The WTC final against Australia further highlighted Pujara's struggles. Despite his preparations in county cricket, he failed to perform against a high-quality Australian attack. His dismissals in the final were not characteristic of his usual dependable batting style. The fact that Pujara will be two years older by the next WTC final suggests that he might not be part of the team for that event.
The absence of a clear replacement for Pujara at the No. 3 position raises concerns for the Indian team. The current squad for the West Indies series lacks a designated No. 3 batsman. Options like Ruturaj Gaikwad and Yashasvi Jaiswal, who are primarily openers, might be asked to fill that role, but it is not an ideal situation.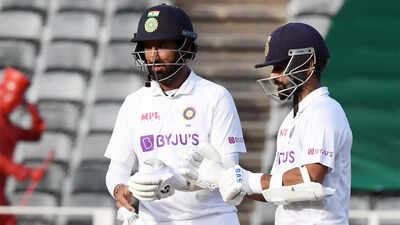 While the return of players like Shreyas Iyer and KL Rahul from injury could provide alternatives, there are still uncertainties regarding their performances and ability to handle specific challenges. It is evident that India has not adequately groomed a successor for Pujara, unlike the situation when Cheteshwar Pujara himself replaced Rahul Dravid.
In summary, it appears that Cheteshwar Pujara may have played his last Test for India due to his prolonged lean patch, poor overseas record, and recent struggles. The absence of a clear replacement raises concerns about India's No. 3 position in Test cricket.