The Indian men's and women's football teams have been given the green signal to participate in the Asian Games 2023, which will be held in Hangzhou, the People's Republic of China, from September 23 to October 8.
Subscribe to our official youtube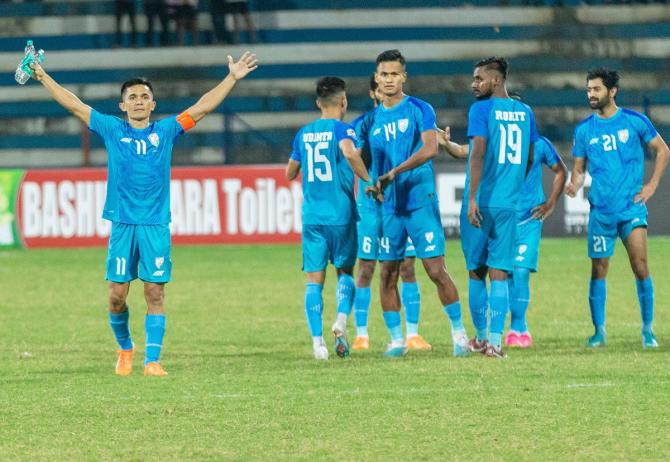 Backstory of Indian football team participation in the Asian games 2023
Initially, the Indian Ministry of Youth Affairs and Sports had set strict criteria for team sports to participate in the Asian Games. The rule stated that only sports teams ranked up to eighth among participating countries of Asia in the last one year would be considered for participation. However, both the Indian men's and women's football teams did not meet this criterion. The men's team was ranked 18th in Asia, while the women's team was placed 11th in the rankings among Asian Football Confederation (AFC) nations.
However, considering the recent performances of the teams, the Ministry decided to relax the rules to facilitate their participation in the Asian Games. Indian sports minister Anurag Thakur stated that the decision was made keeping in mind their latest performances, and hence the relaxation was granted.
In the past, based on the same ranking criteria, the Indian Olympic Association (IOA) had refused to clear the Indian football teams for the 2018 Asian Games in Jakarta. But this time, the ministry's relaxation allows both the men's and women's teams to represent India in the prestigious continental event.
The India's men football team has a rich history in the Asian Games, having won gold medals at the New Delhi 1951 and Jakarta 1962 editions, as well as a bronze at Bangkok 1970. However, their performances have declined over the years. If they participate in Hangzhou 2023, it will be their 16th appearance in the Asian Games.
On the other hand, the India's women team has participated in only two Asian Games editions so far, finishing eighth at Bangkok in 1998 and ninth at Incheon in 2014. Women's football made its debut at the Asian Games in 1990, while men's football has been part of the continental event since its inaugural edition in 1951.
Overall, this decision provides an opportunity for the Indian men's and women's football teams to compete at a higher level and showcase their talent and potential on the Asian stage. It is an encouraging step for Indian football and can help in the development and growth of the sport in the country.