Press Release 
Amina Orfi from Egypt was the winner in the women's category while, Abhay Singh from India was the winner in the men's category
The PSA Squash tournament spanning five days, saw 56 players from 12 countries like Egypt, Sri Lanka, Hong Kong, Korea among others
The tournament had a prize cap of 6000 USD for each category
Delhi NCR, February 01, 2023: HCL, a leading global conglomerate, today announced the successful completion of the third leg of the HCL-SRFI Indian Tour,from 28th January to 01st February. Abhay Singh from India won in the men's category, while Amina Orfi from Egypt bagged the title in the women's category. The PSA tournament had a total prize cap of 6000 USD in each category. Also present at the event were Mr. Rajat Chandolia, AVP and Head of Brand HCL, and Mr. Cyrus Poncha, Secretary- General of Squash Rackets Federation of India (SRFI).
The tournament witnessed participation from 56 players from 12 countries. The countries include Egypt, Hongkong, Serbia, France, Bahrain, Japan, Northern Ireland, Kuwait, Sri Lanka, Korea, India, and Canada. Leading players like Abhay Singh (IND, World Rank-70), Yassin Elshafei (EGY, World Rank -78), Amina Orfi (EGY, World Rank – 94), Nadeen Kotb (EGY, World Rank- 104) participated in the PSA Tour.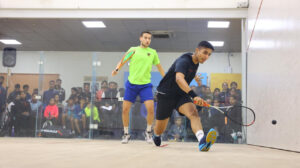 On continuing his winning streak, Abhay Singh (IND, World Rank-70) said, "I am overjoyed with my victory, and it is a testament to the immense talent and potential of Indian squash. I am grateful for HCL's support, who has been committed to the growth of our sport for the past seven years, and their unwavering support gave me the strength to triumph today. That being said, the match against Yassin today was no less challenging and the tremendous support from my family, friends, and coaches encouraged me to persevere against him. I hope to continue my winning streak in the upcoming matches in Denmark and Canada."
Amina Orfi (EGY, World Rank – 94) shared, "The match against Tanvi Khanna was intense, as she played with remarkable skill and tenacity. Despite the tough competition, I am grateful for the learning opportunity. I am elated to have come out on top and am now eager to continue my preparation for future tournaments. I would like to extend my sincere gratitude to HCL for hosting international squash events and for their warm welcome and hospitality during my time in India."
The final match in the men's category was played between Yassin Elshafei (EGY, World Rank 78) and Abhay Singh (IND, World Rank 70) where Abhay Singh from India won the title with a score of 3-1 in a match that lasted for 49 minutes.
Whereas, in the women's category, the final match was played between Amina Orfi [U19] (EGY, World Rank 94) and Tanvi Khanna (IND, World Rank 117), with Amina Orfi from Egypt taking home the title with a score of 3-1 in a match lasting 47 minutes.
Along with PSA tournament, HCL 12th Indian Junior Open is being held from 30 January to 03 February 2023 with the finale scheduled for 03rd February. Over 290 players from India, USA, Malaysia, Sri Lanka, England, and Singapore have registered for the tournament. This annual tournament has been helping squash players for the last 12 years to get better seeding in the Asian and World Junior Championship.
About HCL
Founded in 1976 as one of India's original IT garage start-ups, HCL is a pioneer of modern computing with many firsts to its credit, including the introduction of the 8-bit microprocessor-based computer in 1978 well before its global peers. Today, the HCL enterprise has a presence across varied sectors that include technology, healthcare and talent management solutions and comprises three companies – HCL Infosystems, HCL Technologies and HCL Healthcare. The enterprise generates annual revenues of over US$12.3 billion with more than 222,000 employees operating across 60 countries. For further information, visit www.hcl.com
About SRFI 
The Squash Rackets Federation of India (SRFI) was formed to oversee the promotion and development of the sport in India. The SRFI has more than 20 state associations and affiliated units with its headquarters in Chennai. The federation is affiliated to World Squash Federation/Asian Squash Federation & recognized by Government. of India. SRFI has been forging ahead with dynamic plans ensuring promotion, development, and performance of the sport at all levels.
For further information, please contact: 
On behalf of HCL: 
Pooja Arora- pooja_sikka@hcl.com
Correspondents : Devansh Awasthi/Shubham Madaan