Eden Park, Auckland
We now know that Eden Park in Auckland is the smallest ground in terms of boundary length. Short boundaries generally lead to high scoring and that's largely been the case here.
The highest team score in T20is on this surface is a mighty 245/5 made by Australia in 2018. The previous record of 243/6 was set in the first innings of the same game by New Zealand.
The Wanderers, Johannesburg
South Africa's Wanderers ground in Johannesburg is next up. It's a spectacular location but it's a relatively small one.
At its shortest point, one of the square boundaries measures just 64 metres. The Wanderers was the scene of that incredible ODI in 2006 when both South Africa and Australia passed 400.
Lord's, London
Lord's is the home of cricket so it's strange to think that it's relatively small in modern day terms.
It's been around for centuries so maybe we shouldn't be surprised to learn that the shortest square boundary comes in at 65 metres. That's a more suitable size for cricket that was played in the 1800s and early 1900s.
Eden Gardens, Kolkata
Eden Gardens in Kolkata is another surface that seems huge when you see it on television.
In fact, this is another compact location and the shortest boundary here is a square one which measures in at 65 metres. One of the reasons for the small playing area is that most of the stadium is given over to seating.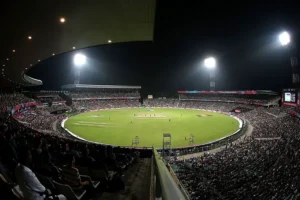 Eden Gardens is one of the biggest cricket grounds in terms of its capacity which is 66,000.
Holkar Stadium, Indore
India are one of the most active countries when it comes to spreading their international matches around. The Holkar Stadium at Indore has been used by the national team since 2006 when India played an ODI against England.
Since then, T20is and test matches have also been played here. The straight boundary is one of the shortest in world cricket at 68 metres.