Wimbledon tournament is one of the oldest and arguably the most prestigious tennis event in the world. Since 1877, the All England Club in Wimbledon, London has been hosting the event. Just 22 men entered the first Championship, which was primarily an amateur competition, called the Gentlemen's Singles, and was eventually won by Spencer Gore.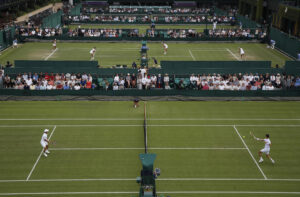 The Wimbledon Championship is one of the four major Grand Slam tournaments in tennis, US Open, Australian Open and French Open being the other three. Amidst the four, Wimbledon is the only one which is played in traditional grass courts while the other three take place on hard and clay surfaces. The event takes place over a span of two weeks, beginning in late June and early July. Following traditions, all competitors must be dressed in suitable attire which is almost entirely white. Eating of strawberries & cream by the spectators, and Royal patronage is also part of the rich heritage of the tournament. The tournament is also notable for the absence of sponsor advertising around the courts. Unlike other major sporting events, Wimbledon is also noted for the absence of sponsors and advertising around the courts. In 2009, Wimbledon's Centre Court got itself a retractable roof to avoid time loss due to rain. In 1884, Ladies' Singles and Gentlemen's Doubles were introduced. Miss Maud Watson won the first Ladies' Singles competition. The Ladies' Doubles and Mixed Doubles tournaments were added in 1913. Novak Djokovic is the reigning men's champions while Jean-Julien Rojer / Horia Tecau are the current doubles' champions. William Renshaw, Pete Sampras and Roger Federer have the highest No of singles title (men) with seven each. Todd Woodbridge has the highest doubles title (men) with nine. Serena Williams is the reigning women's champions while Sania Mirza / Martina Hingis are the current doubles' champions. Martina Navratilova has the highest No of singles title with nine. Elizabeth Ryan has the highest doubles title (women) with 12. Leander Paes / Martina Hingis are the reigning mixed doubles champions. Ken Fletcher, Vic Seixas, Owen Davidson, Leander Paes have the highest No of mixed doubles championships (men) with four each. Elizabeth Ryan (female) has seven. The prize money in 2015 was £26,750,000.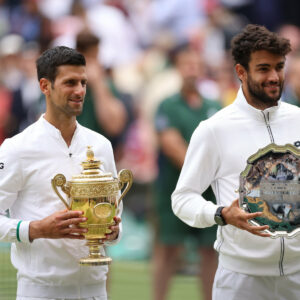 The Gentlemen's Singles champion receives a silver gilt cup, which is 18.5 inches in height and 7.5 inches in diameter. The trophy has been awarded since 1887 and bears the inscription "All England Lawn Tennis Club Single Handed Championship of the World". The original trophy remains the property of the All England Club and is kept in their museum. The winner of the tournament is awarded with a replica of the cup bearing names of all the past champions.
The Ladies' Singles champion is presented with a sterling silver salver commonly known as the "Venus Rosewater Dish", or simply "Rosewater Dish". The actual trophy remains with the All England Club and the winner receives a miniature replica of the trophy.