India started off positively in the match but England quickly took charge  and got plenty of Penalty Corners. India were forced to play a scoreless draw by England in their Pool D match at the Men's Hockey World Cup 2023 on Sunday in Rourkela after an exciting game of hockey.
Both teams put on a thrilling display of skill and athleticism, but neither could score a singke goal in the match. The result leaves India with a point in the standings, but they will need to find a way to break through if they are to progress further in the tournament.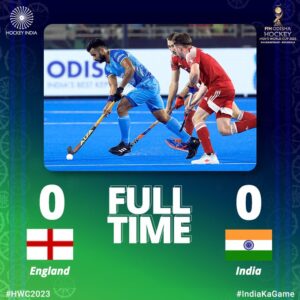 India began the match with a strong positive start, but England quickly took control of the match and earned a series of penalty corners. India's first penalty corner came in the thirteenth minute, but Harmanpreet was unable to successfully put the ball in the nets.
England began the second quarter with the same enthusiasm and forced Pathak to make an early save. In the 21st minute, they earned their seventh penalty corner, but the Indian defence was suberp throughout the match and prevent England to score a goal.
Nilam Xess executed a brilliant block, thwarting England's attempt to score. In the ensuing break, India nearly opened the scoring through Manpreet's diving effort, but it just missed the mark.
England goalkeeper Oliver Payne was called into action a few times, but he rose to the challenge and kept the score level at 0-0 as the teams headed into the halftime break.
The match resumed and England was once again build up the pressure on the Indian defence. Hardik Rai made a run into the English defensive area and unleashed a powerful shot, but Payne was up to the task and made a great save. The ball remained in play and Akashdeep's attempt went wide of the mark.
The hosts began the final quarter with great enthusiasm, hitting a few shots early on. India suffered a blow when Hardik was forced to leave the match due to an injury, and they had also received a couple of green cards as the final minutes of the match approached. With just 19 seconds left on the clock, England was awarded a penalty corner, but Banduraks' shot ricocheted off the post and out, leaving both teams to settle for a draw on Sunday.