Danielle McGahey became the first transgender player to appear in an official international match, at the International Cricket Council T20 Americas qualifier for next year's World Cup, and if it was big news around the cricket world.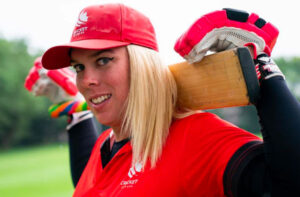 A wicketkeeper by trait, the 29-year-old has played four matches for Canadian women in the South American Championships where she played against the likes of Brazil, Peru and Argentina. She completed all the ICC formalities and met all the eligibility criteria by the International Cricket Council (ICC) for male-to-female transgender players.
As per ICC's regulations, any transgender individual, who wants to play women's cricket, must show that her serum testosterone concentration remains below 5 nmol/L1 for a whole year on a consistent basis. The player must also commit to maintaining the above-mentioned level throughout the participation and give a written and signed declaration stating that their gender identity is female.
Born in Australia in 1994, McGahey's cricket career started in a men's club in Melbourne before she shifted to Canada. After moving to Canada, McGahey joined the Cavaliers Cricket Club in Regina, Saskatchewan. After spending a year at the Cavaliers for the men's team, McGahey represented Alberta in inter-provincial cricket in the Alberta Women's Cricket League.
According to various reports, McGahey began her medical transition in 2021. Meanwhile, McGahey stated that she has been conducting monthly tests for nearly two years and timely sends all the necessary information to ICC. The world cricket body has also assigned a dedicated medical officer on this matter.