The Test series between India and Australia is also known as Border-Gavaskar Trophy. The last time in the Border-Gavaskar Trophy, India registered a historic 2-1 Test series victory, in  an away series for them. It was historic in ways more than one as India was plagued with several injuries and they had to essentially field a third-string team.This time around, Australia will be touring India for a 4-match Test series.  In this article, we'll look at 5 most important Indian players for the Border-Gavaskar Trophy.
Virat Kohli
Unarguably one of the greatest batters of all time, Virat Kohli is on different form  when he plays against Australians.He has a commendable average of 48.06 against the Australians in the Border-Gavaskar Trophy and has 7 hundred in 20 matches under his belt. Virat Kohli will surely be a key player to watch out for in this Border-Gavaskar Trophy.
Ravichandran Ashwin 
Whenever India plays a Test match at home, Ravichandran Ashwin becomes one of the most important assets of India. The all-rounder can contribute with his bowling and also with his batting. Ashwin also has one of the sharpest minds in cricket and he will be a player to watch out for in the upcoming Border-Gavaskar Trophy.
Jasprit Bumrah 
If Jasprit Bumrah is completely fit and is selected for the last two matches of the Border-Gavaskar Trophy, then without a doubt, the pace bowler will be instrumental in India's performances. Jasprit Bumrah is one of the best fast bowler presently in the Indian cricketing circuit.  Bumrah has picked up 128 wickets in 30 matches with ith an average of 22.0. He has a brilliant economy of 2.69 in Test cricket.
Axar Patel
Axar Patel had a phenomenal couple of  years since he made his test debut against England. He has been expectional with the ball in every test match he made. He provides that balance in the team with his batting abilities. He will be a great choice for Indian in the Border-Gavaskar Trophy.
Cheteshwar Pujara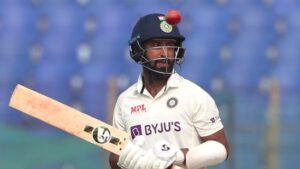 Cheteshwar Pujara has been the standout performer for the Indian team in test cricket . He is the most dependable batter in the squad for the upcoming Border-Gavaskar Trophy.  He piled up the runs in the last Border-Gavaskar Trophy in Australia and took India to a historic series win consecutively on Australian soil. All eyes will be on Pujara in this home series.